Just how solid is cloud storage in 2014
Airy-fairy vapour or something firmer?
Cloud storage events
There were a large number of cloud storage announcements in the year. We've collated lots of them in the list below. Don't bother reading every item; just scan the list and marvel at the amount of activity and the fact that it's not an exhaustive list - cloud storage is HOT:
January:

In January startup Axcient received $20m in a fourth round of funding to help it develop its agentless data centre appliance which sends backed up data to its cloud.
In the same month Cisco and NetApp started developing massive capacity FlexPod reference systems for CSPs.
January also saw Verizon starting up a Terremark brand Enterprise Cloud data centre in in London UK for financial users. It complemented the existing Amsterdam data centre.

February:
Oracle bought Nimbula and its OpenStack cloud management system in March.
April is not the cruellest month:

Amazon added Dropbox-style file sync 'n share to its Cloud Drive. It cut S3 storage prices in the same month and said it was storing two trillion objects in S3.
Amazon enabled its storage gateway to suck up Microsoft Hyper-V server data to its cloud, building on its VMware server base.
DropBox added a single sign-on facility, improving its enterprise usability.
Egnyte bulked up its enterprise file sync 'n share credentials with new execs and board members.

May saw announcements too:

HDS introduced its Hitachi Cloud Services, with it being an Hitachi Data Services (HDS) owned and managed, enterprise-level, public and enterprise-to-cloud offering that allows enterprises to store their unstructured data in a remote HDS storage vault, which is built on the Hitachi Content Platform, an object storage product technology.
May saw Google link its different cloud storage silos into a single unified storage pool. Previously Google cloud apps like Gmail, Google Drive and Google+ Photos had their own storage resource.
NetApp and Verizon Enterprise Solutions announced a collaboration to deliver Data ONTAP as a virtual storage appliance (VSA) for Verizon Cloud clients.

June was frantically busy for CSPs:

HP expanded on its public cloud compute and storage ideas in June, saying it would focus on high-value app niches rather than engaging in full frontal competition with the AGA trio, perhaps using its own kit like Moonshot servers.
Red Hat announced its own implementation of the OpenStack cloud controller, joining virtually every private cloud and public CSP wannabee supplier.
Rackspace opened up an Australia base for its OpenStack-powered elastic cloud offering.
Tier 3 said it had a Riak distributed datastore-powered cloud object storage service.
Google enabled data upload to its cloud via hard disk; HP, Amazon and RackSpace already offered that capability.
Joyent started up a ZFS-based object store, the Manta Storage Service.
SanDisk invested in cloud storage gateway startup Panzura.
Quantum, known for on-pre tape and disk-based storage products, announced it would start up a cloud-based, managed service provider offering in July.
In the trivia department Microsoft lost the rights to call its cloud storage service SkyDrive in July; BSkyB already had that trademark. The Microsoft service is now called OneDrive. What a piece of sloppy trademark research by Redmond.

August saw another burst of activity:

Quantum's Q-Cloud service for backup, restore and disaster recovery was announced.
Riak cosied up to OpenStack in August, with OpenStack API support amongst other things.
SGI backed away from margin cut-throat business of supplying products to CSPs in August. CSPs need low, low cost compute, storage and networking infrastructure and SGI can't provide it at the prices needed and make a profit.
VMware announced its vCHS virtual hybrid cloud service that VMware said has better than Amazon virtual machine migration and coming backup and on-premise to cloud migration for ESXi users.
China CSP Tencent offers 10TB of free cloud storage to its customers. Its rivals Baidu and Qihoo 360 offer 1TB. Google Drive offers 15GB, Dropbox offers up to 18GB and Microsoft's SkyDrive 7GB; cheapskates one and all :-)
Microsoft bumped up SkyDrive Pro (file sync 'n share) service's free storage to 25GB in August.

September saw more announcements:

Microsoft offered a dedicated storage cache - Windows Azure Cache Service - to Azure developers in September which competes with Amazon's ElastiCache. Amazon updated its ElastiCache offering the very next day.
It also said in September it would give away its StorSimple cloud storage gateway arrays to customers willing to spend lots on Azure services.
And it partnered with Oracle. More on this later.
Riverbed refreshed its WhiteWater cloud storage gateway.

The pace hardly slackened in October:

Verizon started talking up and developing its new public cloud offering in October.
Nasuni updated its gateway offering then too.
Microsoft did a deal with EVault to offer a year's free backup to some Azure Enterprise users.

And in November:

Symantec withdrew from cloud backup in November.
Google provided two mobile development tools to developers to persuade them to use its cloud.
Avere added AWS Glacier support to its NAS accelerating cloud gateway.
CA can back up data to Amazon's cloud via Riverbed's gateway.

December saw no let-up:

Amazon said it would supply its own cloud storage gateway hardware.
IBM announced a toolkit to move data between clouds.
Microsoft announced a new Azure data centre in S America and said it had more regions than Amazon.
Seagate sub EVault announced a faster-than-Glacier cloud archival service.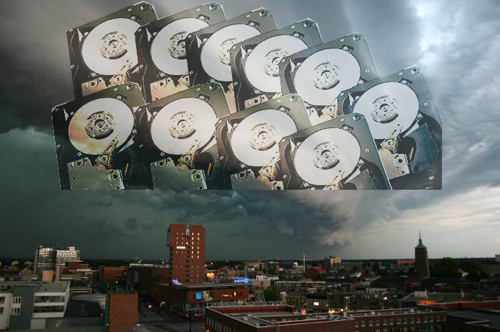 Let's have a quick check on the three main players, the AGA group.
Sponsored: Minds Mastering Machines - Call for papers now open