Satya Nadella is 'a sheep, a follower' says ex-Microsoft exec
'He can neither spell consumer nor device' says Joachim Kempin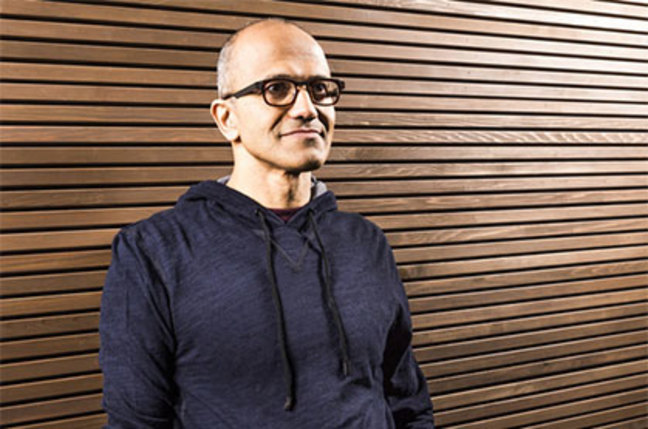 Dan Lyons, the writer behind Fake Steve Jobs, has found someone willing to bucket incoming Microsoft CEO Satya Nadella.
That someone is Joachim Kempin, who was general manager of Microsoft Germany in the subsidiary's early days and rose to become a senior veep in charge of Microsoft's OEM business.
Kempin has form criticising Microsoft, as he penned a volume titled Resolve and Fortitude: Microsoft's "secret power broker" breaks his silence and hasn't been shy talking it up by dishing some dirt.
Little wonder, then that he found something unpleasant to say about Nadella when chatting to Lyons.
The choice bits? Microsoft has "found their sheep, a follower" who "can neither spell CONSUMER nor DEVICE" (Kempin's caps).
Lyons says Kempin opined to him that "Insiders say the guy has not done anything impressive at all. So he will struggle getting attention and respect." A one-time intimate of Bill Gates and Steve Ballmer, Kempin also feels the two former CEOs' presence on Microsoft's board will be disruptive because their influence runs deep. Conflict, he feels, is certain.
Kempin has argued that Microsoft needs to divest itself of some businesses in order to grow, but feels Nadella won't adopt his strategy.
"His stated goal is to bring innovation faster to market," he said. "No track record there either. The best way to do that is to sell some parts of the company and get rid of a lot of fat. He won't do that either."
Kempin left the Microsoft glasshouse in 2002, so any stones he throws can't hurt him now that he's on the outside. And Nadella? He's well-shielded for now by a big buffer of euphoric honeymoon optimism. Once he wakes up next to the real Microsoft, Kempin's perspective might seem useful. ®
Sponsored: RAID: End of an era?