New Microsoft CEO Nadella could earn FOURTEEN TIMES what Ballmer banked in 2013
Being named Microsoft's CEO can be quite a windfall, it seems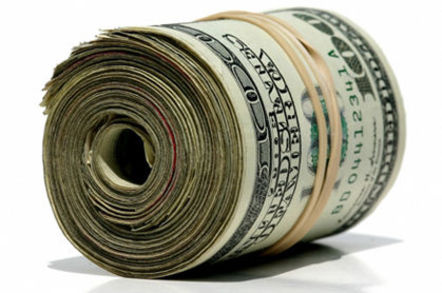 Newly minted Microsoft CEO Satya Nadella's salary nearly doubled on his first day in the corner office, giving him a pay package even larger than that of outgoing CEO Steve Ballmer.
Nadella will earn an even $1.2m in his first year on the job, according to documents filed with the US Securities and Exchange Commission on Tuesday.
That's a 78 per cent hike from the $675,000 he was paid as president of Microsoft's Server and Tools division, as reported in the company's most recent proxy statement.
It's also a better deal than Ballmer was getting at the end of his reign. Redmond's famous chair-chucker was paid $1.26m in fiscal 2013, but that included both his base salary of $697,500 and a cash bonus of $550,000. (He could have earned a bigger bonus, but the board in its wisdom deemed 79 per cent of the max to be sufficient.)
Nadella will also earn a bonus on top of his salary, but his could be as much as triple his base pay, or up to $3.6m.
In addition, Microsoft will give Nadella a stock award worth $13.2m during his first fiscal year. Ballmer, on the other hand, consistently declined to receive any stock awards – though, to be fair, he does own around $12bn worth of the company already.
Adding up the figures, Nadella's total compensation for his first year as CEO could be as much as $18m – more than double the $7.67m total package he received in fiscal year 2013, and more than 14 times what Ballmer earned that year.
All in all, not a bad day's work for a 46-year-old immigrant from Hyderabad, India.
Just how much of that $18m Nadella actually sees, however, will depend on a lot of factors, not least of which whether he can satisfy Microsoft's board of directors that he is following through on Ballmer's vision of Microsoft as a "devices and services" company.
Despite Nadella receiving glowing endorsements from Ballmer and Microsoft founder Bill Gates – the latter of whom will be stepping down as chairman of the board to assist Nadella in his new role – investors' reaction to the transition seemed mixed, and Microsoft shares closed down slightly. ®
Sponsored: Minds Mastering Machines - Call for papers now open