Indian press focuses on Satya Nadella's love of cricket
New CEO says game prepared him for life at Microsoft with its 'subplots like Russian novel'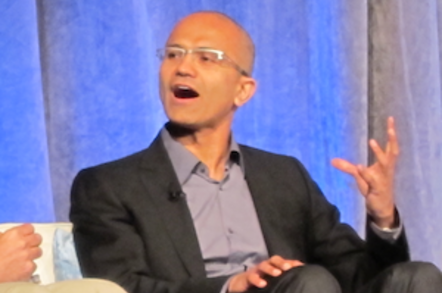 "There's so many subplots, it's like reading a Russian novel," says new Redmondian-in-chief India's press is bursting with pride over the appointment of Satya Nadella as Microsoft's new chief executive officer, with reports emphasising his local education and fascination with cricket, India's national sport and obsession.
The Deccan Herald's sets the tone by applauding Nadella's appointment, but also pointing out he is not a pioneer. "With his appointment, Nadella joins a select group of India-origin executives steering top global companies," the paper reports, naming PepsiCo Chairman and Chief Executive Officer Indra Nooyi, MasterCard president and chief executive officer Ajay Banga and Deutsche Bank Co-CEO Anshu Jain as his predecessors as globally-significant CEOs. The report also mentions his bachelor's degree in electrical engineering from Mangalore University.
Other Indian outlets are more keen to emphasise his Indian upbringing as making him CEO material. All are leaning on this bio of the new CEO, thoughtfully prepared by Microsoft.
India's Economic Times, for example, leads with "Satya Nadella, new head of Microsoft, attributes his rise to cricket".
The Times of India, for example, is one of many to use a line offered by Nadella to the effect that "I think playing cricket taught me more about working in teams and leadership that has stayed with me throughout my career".
India's second-largest business newspaper, Mint, is one of many to report that Nadella is still a cricket enthusiast.
Mint's widely-used quotes report Nadella offering the explanation that cricket is "the longest form of any sport in the world" and that the new CEO says "I love it" because "There's so many subplots in it, it's like reading a Russian novel."
Might those remarks resemble a description of Microsoft? Cricket teams comprise two distinct types of player, bowlers skilled at delivering a ball towards batters who are good at hitting it to score runs. Microsoft has enterprise products that put lots of runs dollars on the scoreboard balance sheet and consumer products that struggle to assemble a consistently strong team. Microsoft also reportedly suffers all manner of internecine battles that are said to make internal politics and decision-making akin to navigating the kind of court intrigues recounted in epic Russian literature.
Little wonder then that Indian news outlets are keen on reporting Nadella's fondness for cricket: the man himself thinks India's national game prepared him for life atop Microsoft. ®
Bootnote
Readers beyond the cricketing world may not know that cricket is beyond an obsession in India. An example: India's greatest player, Sachin Tendulkar, sometimes appeared in one in four TV advertisements and reportedly liked to holiday in central Australia as it was one of the few places in the world he could gain a little privacy. Matches against Pakistan are akin to cold war matchups between the USA and USSR inasmuch as they become proxies for geopolitics. Test cricket, the oldest form of the game, takes place over five days and around 34 hours of play. Nadella probably won't have time to watch any Test matches for a while.
Sponsored: Minds Mastering Machines - Call for papers now open