Russian gay dating app dev: We've been BLOCKED just DAYS before Winter Olympics
Threats issued to 'Russian Grindr' users and 72k profiles deleted, says exec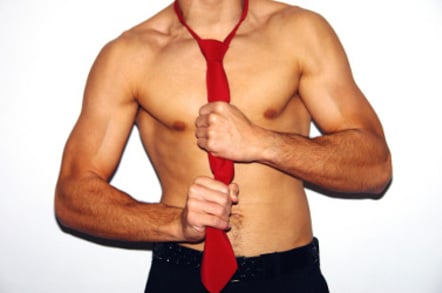 A mobile dating app which is popular among Russia's gay community has reportedly been hacked and blocked in the country just days before the Black Sea coastal town of Sochi plays host to the Winter Olympics.
Russian users of Hunters, a hook-up app that's similar to Grindr, were also sent threats that a controversial new Russian law banning so-called "gay propaganda" signed by Russian President Vladimir Putin last July would be used to arrest them, according to the chief exec of the developer, Dmitry T.
The exec said the following threatening message (in English) was broadcast on Saturday to all Hunters' users in Russia: "You will be arrested and jailed for gay propaganda in Sochi according to Russian Federal Law #135 Sektion 6".
Things reportedly escalated on Sunday after Hunters was blocked in and around Sochi, with local users who attempted to log in being informed that their profile would be blocked for a month. Around 72,000 user profiles were deleted throughout Russia, the dev claims.
Hunters boasts just 468 Facebook likes and 15 followers on Twitter so its purported huge presence in Russia appeared curious. We asked the developers to explain this apparent discrepancy.
In response, Hunters chief exec Dmitry T reasserted that the stories about the warning were genuine and explained the app's low profile on English-medium and Western social media sites.
Hunters is localized into 12 languages including Russian. But hackers sent all messages to Russian users & tourists who came in Sochi in English in order to make them scared.

We are not communicating to our users via Facebook and Twitter because these SN [social networks] are not popular in Russia. We are using in-app notifications.
The Hunters app first appeared in stores in November 2012, with the latest versions going live on Apple's App Store and Google Play on 30 January and 14 January, respectively.
El Reg also asked developers of the better known Grindr app if there was a more general clampdown in Russia but we've yet to receive a reply.
Dmitry T made the claim to gay news and popculture blog Towleroad.com that state-sponsored hacking may have been responsible for the block.
"It looks like the Russian Government decided to take full control of the internet and implement Turkish practices where Grindr has been banned for almost half a year," Dmitry T told Towleroad.com. "I think that this attack is connected to increasing censorship of the internet and very soon other gay dating resources in Russia will face similar problems."
Hunters is in the process of moving its servers from Russia, a process it hopes to complete in around a week. The developers are keen to play down possible concerns that financial information might have been exposed by the attack. "No users' financial details were compromised during this attack, as this information is reliably protected by Google and Apple," an update to Hunters' original statement explains.
Screenshots of the alleged attack on Hunters, as well as a press release, have been collated together on Dropbox here.
Hunters devs say the app, which they claim is used by more than 1.2 million people worldwide, allows gay men not only to seek casual hook-ups, but to also find serious dates, homes, friends and jobs.
Last year Russia enacted a controversial law prohibiting distribution of "propaganda of non-traditional sexual relations" among minors. Critics and human rights activists say the law makes it impossible to stage gay pride events or speak in defence of gay rights in Russia. The law, which has been criticised by the international community and foreign media, has resulted in a number of arrests and incidents of violence against homosexual people.
Gay rights groups have urged a boycott of the Sochi Winter Olympics as a protest.
Western media are reporting that the Sochi Winter Olympics will be the most expensive ever, costing up to $50bn according to some estimates, with security particularly tight in the aftermath of recent suicide attacks in nearby Volgograd by Islamic separatists.
Russia media outlets, such as RT, are equally adamant that these estimates are all a load of old borsch. ®
Sponsored: Minds Mastering Machines - Call for papers now open