ARM slaps on smartwatch, MIPs chip dip just a blip
Cambridge firm: Revenues are still up, chaps... and we'll be making profits again in no time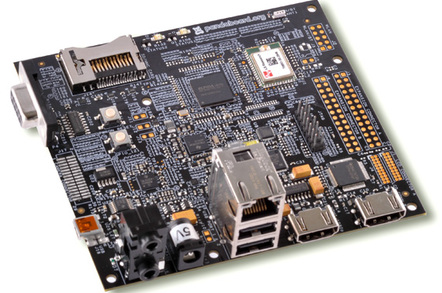 British semiconductor design firm ARM has announced its fourth quarter and full year revenues for 2013, saying it netted $1.12bn (£714.6m) in 2013, an increase of 22 per cent over the previous year.
But thanks to a unexpected decision by a patent consortium, of which ARM is a member, not to license its IP, the company posted a loss in the fourth quarter.
The firm reported a net loss in the quarter of £6.2m ($10.1m), which ARM ascribed to one-off charges, taxes and impairments. The latter included a whopping £59.5m ($98.5m) charge after some expected licensing revenue from Bridge Crossing (a consortium in which ARM itself is a stakeholder) did not materialise. ARM has nevertheless decided to hang onto the patents from rival RISC chip biz MIPS Technologies, saying in its earnings report:
As ARM believes that there is significant long‐term strategic advantage in owning this intellectual property, the Patents were purchased outright in Q1 2014 for $4m (£2.5m).
The firm expects profits to normalise next quarter.
The full year revenues bounce reflects sales of 10 billion ARM-based chips last year, which equates to an average of 317 chips sold by partners who'd licensed the Cambridge firm's designs every second. The firm saw full-year profits before tax of £364m.
Sales in Q4 included licensing for 2.9 billion chips, representing $303m in revenue, a 30 per cent year-on-year increase. The company sold 29 processor licences. This brings ARM's total number of licences to 529, even after companies which have licensed ARM kit but do not expect to generate any revenue have been crossed off the list.
Four licences for ARM's Mali GPU were sold in Q4. ARM sees Mali as a major way to grow revenue by having additional licence fees.
While mobile is the greatest single user of ARM cores, over half of its sales are in different kinds of non-mobile devices such as digital TVs, set top boxes, digital cameras, enterprise and network computing. ARM sees the high end of the smartphone as a slowing market, with the slack being taken up by low-end and mid-range smartphones.
As tablets overtook laptops on sales in 2013, ARM overtook Intel in mobile computing - albeit no thanks to Windows RT - and ARM expects this trend to continue in the future.
With power and cooling being the greatest issues in data centres, the development of server-optimised ARM processors from Applied Micro and AMD's Opeteron 1100 is seen by ARM as a great future opportunity.
Other areas for growth include embedded applications (processors in devices hooked up to the Internet of Things) and the fashionable wearables market. So is 2014 going to be the year the smartwatch finally takes off? ®
Sponsored: Minds Mastering Machines - Call for papers now open