Spiceworks scoops $57m in 'last funding round before IPO'
An audience of millions of IT guys IS worth money! Yippee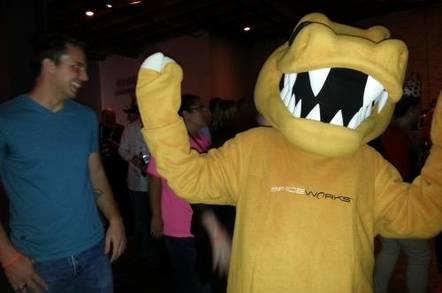 Spiceworks, the Texas-based web-2.0 platform for sysadmins, has announced that it has closed a $57 million round of funding - which it expects to be its last before an IPO.
The funding is led by Goldman Sachs and brings the total amount raised by the company to $111 million. In exchange for the cash splash, Goldman Sachs gets to add their man David Campbell to the Spiceworks board of directors.
Spiceworks plans to grow the workforce by about 100 bodies to roughly 340 people. As part of this the firm will grow its development team by approximately 50 per cent. Though this isn't nearly enough slots for the 15,000 people worldwide that Dell is rumoured to be axing, Spiceworks CEO Scott Abel tells the Register that Dell staff are encouraged to apply.
Abel was also able to confirm that Spiceworks is looking to make this the last funding round before IPO. He gives a timeframe of between two and four years for the offering, though your correspondent would aim closer to the two-year mark if placing bets. Spiceworks has managed to hit 5 million monthly unique visitors and is looking to double this in the next 18 months.
That goal will direct where the money is spent. While significant resources will go into development of the core Spiceworks application, the primary goal is to turn Spiceworks into a platform for the delivery of management tools relevant to systems administrators, replete with app store.
This will shift a lot of the burden of feature development and innovation off Spiceworks itself and over to vendors and developers who will be able to charge for their wares. Spiceworks has built itself an audience and is now building the services needed to capitalise on that fact.
Sales and marketing are likely to be the biggest beneficiaries at Spiceworks. Expect a large percentage of that $57 million to go to raising awareness of Spiceworks' existence among systems administrators and vendors alike. Spiceworks keeps itself afloat because of the advertising money spent there and the goal now is get every conceivable IT nerd – from sysadmin to developer to vendor – involved with Spiceworks.
Obtain large quantity of users, convince the world that there is gold in that user base and then IPO for a mind-boggling amount of money. It might seem a little formulaic, but that's exactly what the Spiceworks executives and investors are hoping for. They've got the money to hand, now it's time to see if they can make it to the finish line. ®
Sponsored: Minds Mastering Machines - Call for papers now open