Google bit barge ordered to set sail for safe waters
Paperwork SNAFU means Chocolate Factory needs a new dock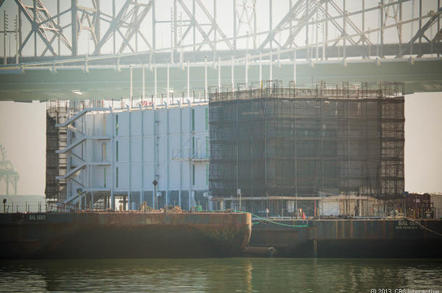 The San Francisco member of Google's mystery barge fleet has sailed into stormy waters, with the San Francisco Bay Conservation and Development Commission (SFBCDC) ordering the ad giant to find a new dock for the craft.
At issue, says Associated Press, is zoning for the dock where Google shipwrights are working on the bit barge. The facility is apparently not approved to host the kind of work Google is carrying out, which has led to complaints from locals.
The SFBCDC says nobody thought to seek out the approvals required to build a four-story bit barge on the docks Google has chosen. Other facilities in San Francisco Bay do have the correct approvals, so SFBCDC thinks Google should ship out to get shipshape.
Google's not responded to the news about this new regulatory squall. Indeed, the chocolate factory hardly ever has anything to say about the bit barges other than a grudging revelation that the craft will offer "an interactive space where people can learn about new technology". ®
Sponsored: Minds Mastering Machines - Call for papers now open