This THREESOME is a HANDFUL: It's the Asus Transformer Book Trio
Android tablet plus Windows laptop... plus Windows desktop
Best of both worlds?
I've no real complaints on the performance front, however. The Android tablet turned in an AnTuTu score of over 17,000 which is perfectly adequate and it played all the usual demanding games with ease. PCMark8 threw up scores of around 1400 running under Windows which is par for a device with a low-power Ultrabook CPU and an HDD. The Windows system has to make do with Intel's integrated HD 4400 graphics core, which limits the system's gaming potential, though that hardly came as a surprise.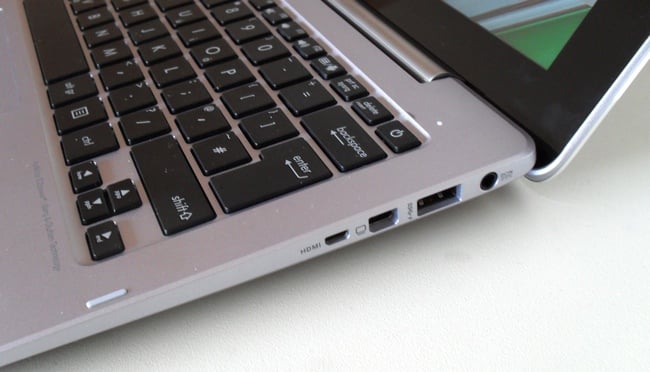 DisplayPort and HDMI
Lacking both the tools and the bravery to start disassembling the Trio, I can't tell you how easy or hard it is to upgrade the RAM but, let's be honest, this is not the type of machine you buy with the aim of rummaging around in its undergarments or installing a Linux distro.
In use, the swap between the two operating systems in a simple matter of pressing the button with the Windows and Android logos on it. A small graphic flashes up to tell you are switching 'twixt OSesr and then, wallop, you are there. Assuming both are running and don't need to boot up. Even if they aren't, the swap is impressively speedy.
The implementation of the switch from Android to Windows isn't entirely foolproof though. On a couple of occasions when I hit the swap key from Android to sleeping Windows, the screen just went dark, necessitating a restart of tablet and dock to get back into Windows or Android.
I understand this is an issue with the drivers used by the Asus OS switcher which aren't playing nice with Windows 8.1. New drivers will doubtless hove into view soon but a simple fix seems to be to just prevent Windows going to sleep, or not upgrading to 8.1 just yet.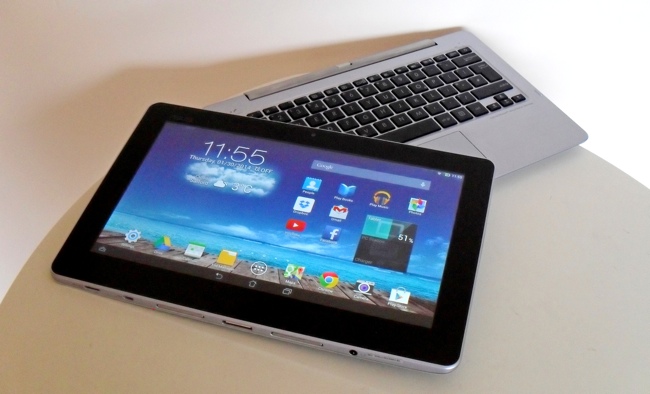 Still separated
The dock's chiclet keyboard is a decent enough affair. The keys are pleasant to the touch, the action positive and there is a Caps Lock light. The Asus US product page for the Trio says the keyboard is backlit, but that's only a feature of the i7 Trio - the keyboard on my i5 review example most certainly wasn't backlit, which was a disappointment. Nothing wrong with the trackpad, though, which is in all ways a fine example of the breed.
This being an Asus machine, the 11.6-inch IPS LCD screen is very good. The 1920 x 1080 resolution makes everything look as sharp as a tack, though the resolution/size combo makes things look a wee bit small to my eyes when running the Windows desktop. It's an impressively bright and colourful display, just like almost every other Asus screen I've played with of late.
The cameras aren't too shabby either. The 5MP one in the back of the tablet takes a decent picture in good light, while the 720p webcam makes for a clear and bright video chat.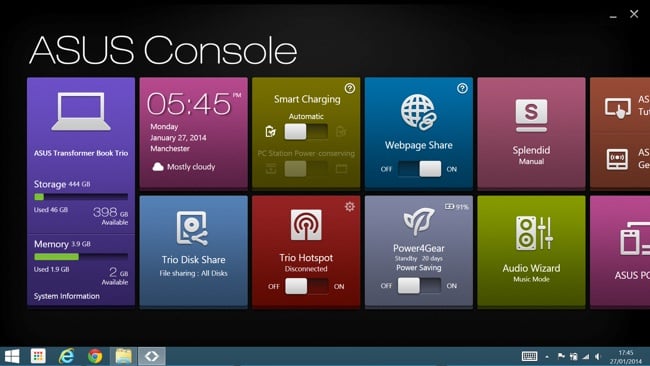 Asus's Console utility
Slapped across the right side of keyboard deck you'll find a sticker advertising the Trio's ICEpower sound system from everyone's favourite mad audio Danes, Bang & Olufsen. It's not just marketing blurb. The tablet's speakers are good but the docks are bordering on the exceptional: loud, composed and very sonorous. This is one of the best-sounding laptops I've ever tested.
The price? At £900, the i5 Trio is hardly what I'd call cheap, but when you consider that a decent touchscreen i5 laptop with a 1080p screen can set you back not a whole lot less - though probably with an SSD - and that a quality Android tablet like the Sony Xperia Z costs around £400, it's perhaps not an unreasonable ask. Compared to what an iPad and a MacBook Pro or Air will set you back, it's something of a bargain.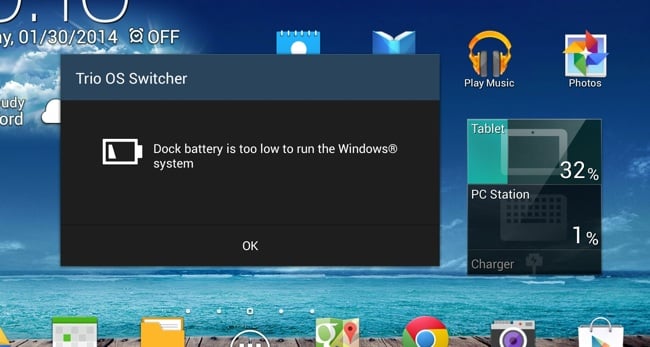 Power sharing is not entirely foolproof
The Reg Verdict
So, does three into one go? Pretty much, yes. Having a fully functional Android tablet and a Windows 8.1 PC in one package and both with a fine 1080p display certainly has its attractions. Cough up a few hundred quid for a monitor and it becomes an even more flexible package.
There are a few slightly rough edges, like the wonky file sharing hotspot and the absence of a keyboard backlight on the cheaper i5 machines. And the batteries could be little more beefy. But there's no denying that with one of these in your backpack you have got all the bases covered for work or play or anything in between. ®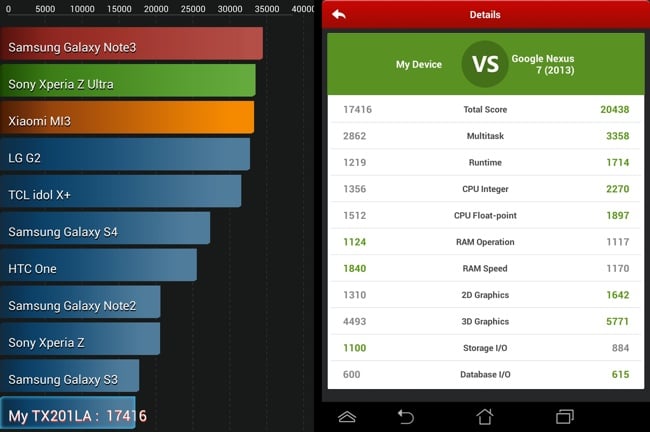 Benchmark results

This THREESOME is a HANDFUL: It's the Asus Transformer Book Trio
Cunningly contrived Windows laptop, desktop and Android tablet, all in one - or, rather, all in two. A cute idea, but compromised.