NetApp to fling out new FAS array business beast – source
Firm won't comment on 'FAS8000'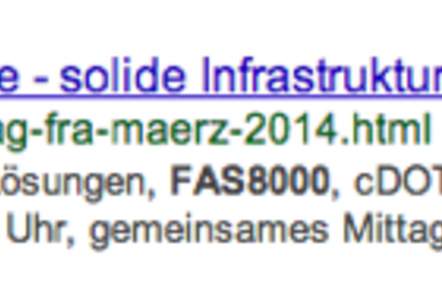 Exclusive A person close to the situation has told El Reg that NetApp has a FAS8000 enterprise array coming soon.
A well-placed source said that a coming FAS8000 would effectively replace the FAS3000 and V-Series products. Also NetApp would start selling its (ONTAP) software separately from the FAS array hardware soon. Oh, and the FlashRay all-flash array was due at the end of the second 2014 quarter, meaning during June.
We also found a NetApp FAS6200 Series Product Comparison webpage listing the FAS8000 as a related product.
An Indeed CV entry for Paul Glynn lists this particular experience:
Research Triangle Park, NC November 2012 to September 2013 Setup and troubleshooting of NetApp storage controllers (Series: FAS2200, FAS3200, FAS6200, FAS8000) with FC and SAS storage.
A NetApp calendar for a Germany partner sales events lists the FAS8000 in the search hit and clicking on the link leads to a webpage showing this entry:
Wednesday Feb 12 6pm Solutions Insight Webcast, "FAS8000 - Next Generation Enterprise Storage Family"
Another Google search hit listed the FAS8000 with 25 and 26 March 2014 dates for training sessions in Nuremberg and Frankfurt, Germany:

FAS8000 mentioned in Google search listing.
Clicking the link revealed no FAS8000 mention but clicking the cached version of the link revealed this:
11:15 Uhr NetApp Flash Lösungen, FAS8000, cDOT Migrationspraxis, Roadmap
This translates to "NetApp Flash solutions, FAS8000, CDOT migration practice, Roadmap."
Logically a NetApp FAS8000 would seem to fit above the FAS6200 in the NetApp FAS product lineup - FAS2200, FAS3200 and FAS6200. Positioning it as a FAS3200 replacement seems ... curious.
We asked a NetApper about this FAS8000 and were told that NetApp does not comment on "rumour or speculation". ®
Sponsored: Minds Mastering Machines - Call for papers now open