Only the Chinese can save us now, trill server vendors
Global sales rise despite 9th quarter of EMEA declines. HP heads the pack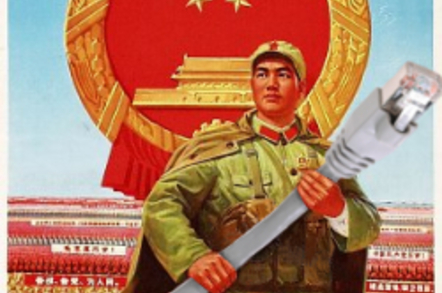 HP put more distance between itself and global server rivals in Q4 amid a mini recovery in shipments, mostly driven by demand from internet companies and the mega mobile network carriers in China.
And it was even more apparent looking at the quarterly numbers why IBM quit the Intel-based system space and pushed its division into the welcoming arms of Lenovo as unit sales collapsed.
Prelims from Gartner point to worldwide shipments swelling 3.2 per cent year-on-year to 2.58 million units.
Accounting for one in five servers shipped, China grew 25.5 per cent, followed by Latin America, up 7.6 per cent, as the Japan and North America regions climbed 2.4 and 0.3 per cent respectively. Asia Pacific was down 2.7 per cent.
Number-cruncher Gartner said:
"China's growth was mainly driven by strong demand from Internet companies… [and] mobile network carriers' big investment in infrastructure due to 4G mobile communication links".
Another factor that must be unsettling to the big US vendors is the continued rise of local Chinese brands – including Huawei, Inspur Electronics, Sugon and Lenovo.
It will come as no surprise to anyone in the server game closer to home that EMEA fell 2.4 per cent, the ninth consecutive quarter of shipment declines.
"The region remains vulnerable to low spending from enterprise customers and overall economic vulnerability," said Gartner, "The RISC/ Itanium Unix segment continues to suffer from migration to alternative platforms, as users seek lower-cost alternatives and more flexibility."
Across the Atlantic, the market in North America performed slightly better than break-even, impacted by falling demand for Itanium, the mainframe slowdown, and "normalised" RISC sales after a boost a year ago.
HP, which will be even more protective of its market leadership in servers after ceding top spot in PCs to Lenovo, pushed up shipments 9.2 per cent year-on-year, upping market share to 28.1 per cent from 26.5 per cent a year earlier.
Whitman's workers "continued to benefit from hyper scale demand in North America", but sales went backwards in China, dropping 11.5 per cent as Dell sucked up demand there.
In the quarter that Dell went private again, server sales fell 5.3 per cent, with a mirror opposite performance to HP - doing well in Asia Pacific and China, up 24.8 and 30 per cent respectively, but tanking in its homeland and Canada as shipments dropped 21.3 per cent.
Big Blue held onto the third spot but its market share dropped to single digits, just below nine per cent, on the back of a near 21 per cent slide in sales.
"All regions declined, except for Japan, IBM's strong focus on the enterprise segment could likely be the major culprit for its continuing weak performance throughout 2013," said the beancounter.
x86 machines with an IBM badge "lagged" behind rivals' systems, particularly in the hyper scale segment, and the Power 7 and System z lines reported "disappointing" results.
Huawei leapt into fourth spot after shipping nearly 70k units, compared to nearly 32k a year ago. The firm is integrating servers in its telco kit and "expanding market coverage rapidly worldwide".
Boosted by blade server wins, Cisco remained fifth, followed by Lenovo, which will obviously be in the third spot when Q1 numbers are released. Fujitsu dropped to seventh as sales fell 5.6 per cent.
Final market data will be out at the end of February. ®
Sponsored: Minds Mastering Machines - Call for papers now open