Apple marks '1984' anniversary with iPhone-produced un-commercial
No Super Bowl rehash as company marks Mac milestone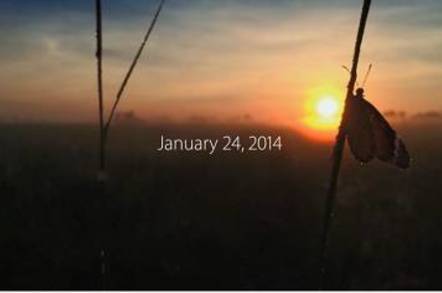 Three decades after launching one of the most famous ad spots in TV history, Apple has marked the anniversary of its 1984 Super Bowl commercial with a quietly subversive effort that once again pits the company against a perceived status quo in the industry.
The company on Sunday released "1.24.14", a short film advertisement highlighting the use of Apple products globally over a one-day span. Shot in a 36-hour period by 15 camera crews around the world, the footage for the commercial was gathered on the 30th anniversary of the release of the Macintosh.
The film, directed by Jake Scott (son of "1984" advert director Ridley), showcases both adults and children using their Apple products for everything from shooting and editing media, to watching videos, to interacting with robotics and teaching tools. The video culminates with a "Happy Birthday, Mac" tribute to Apple's long-running line of personal computers.
While many of the world's largest brands were jockeying for position amidst the Super Bowl broadcast, Apple repeated its pattern of recent years and opted not to make a big splash at the big game. The company known for epic TV ads ranging from the humorous to the inspiring to the vaguely creepy opted to post its tribute to 30 years of the Mac online.
Like so many of Apple's publicity choices since 1984, doing so was a canny move. Cook & Co. knew exactly what they were doing, posting the video online rather than competing with other companies for attention while spending multiple millions on ad time.
The spot itself provides an interesting contrast on the tech world today versus that of 30 years ago when the elder Scott directed what would become Apple's famous Orwellian ad. While the Super Bowl was a highly anticipated television event in those days, it was not yet the global advertising showcase it has become today.
Much as Apple sought to separate itself from its competitors with the "1984" ad and the presentation of the Macintosh as an empowering and uniquely personal device, Apple's online ad placement once again pitched itself as a "brand of the people" by going directly to streaming video rather than through broadcasters. Just as the "1984" and "Think Different" ads pitched Apple as an empowering tool for ordinary people, so does "1.24.14" send the message that Apple, despite being one of the largest brands in the world, positions itself as a company for the people.
What's more, the company managed to sidestep the "Super Bowl ad winner"' debate without spending a horrendous amount of marketing cash. It's a marketing coup that would have made Steve Jobs proud, and in many ways it's vintage Apple. ®
Sponsored: Minds Mastering Machines - Call for papers now open