Reg reader crafts 3-axis GoPro 'Stubilizer' for skull-mounted cameras
'Vertical learning curve' for CAD and 3D printing novice Stuart Smith
How hard could it really be?
El Reg: What CAD software did you finally settle on?
Stuart: SolidWorks, the evaluation version, but the final design tweaks will be done by a freelance CAD professional (via his existing licence, so all above board) to make it fit for injection moulding.
I think if it wasn't for my need to end up with something that can be injection moulded, I could have chosen something else. However, it seemed sensible to go with an industry standard modelling tool which had built-in support for moulding and plastics.
It's certainly not an area where free stuff excels, so you're left with the big boys - and they all charge a fecking fortune for licences.
El Reg: What have been the challenges?
CAD has been the big one. But tackling the 3D printer went hand-in-hand with that. I think without it I'd have been stuffed. I've lost count of the number of times I've been happy with the design, printed it out and then found it was total bollocks for some reason or other.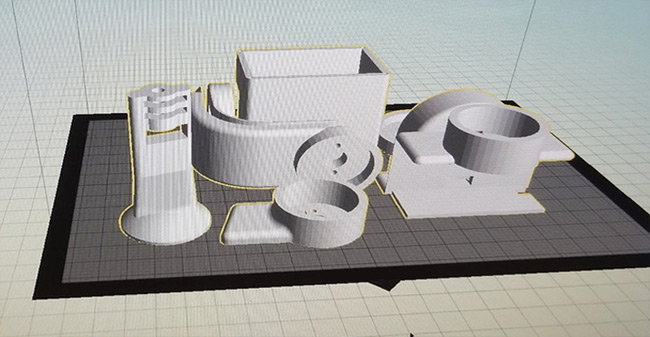 Arranging the Stubilizer parts prior to printing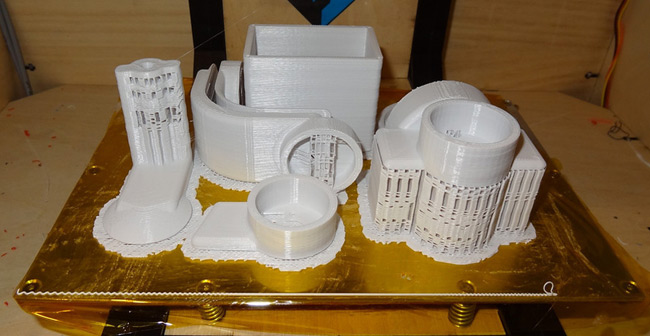 The Stubilizer bits hot out of the printer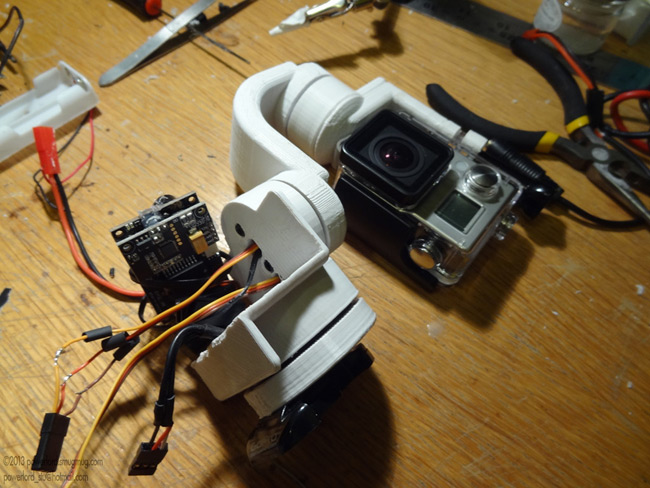 Wires, camera, action: The prototype Stubilizer during assembly
El Reg: Is there any other way you could have done your prototyping?
Stuart: I could have tried to whittle parts out of wood by hand or trying to mould polymorph by hand. It's only been after holding it in my hands, trying it on a helmet, for example, that you get a feel for what works and what doesn't.
An alternative to printing your own stuff is to send the designs off. I've currently got orders in with a couple of online 3D printing firms, but it's still expensive at £60 per Stubilizer, and turn-around is around 10 days.
There's also CNC, but that's pretty much what every existing Chinese cobbled-together gimbal design uses - flat CNCed parts of carbon fibre/aluminium. And that leaves you with all the problems I'm trying to solve, like exposed wires and a Heath Robinson look.
El Reg: You're evidently on the right track, as the above vid of an early prototype shows. What's on the agenda now before you start rattling the tin for funds?
Stuart: I've got to iron out a few technical issues with the latest design. It just doesn't work as well as I'd like, and I don't want to take it to Kickstarter until I'm 100 per cent sure that I can fulfil on promises I make.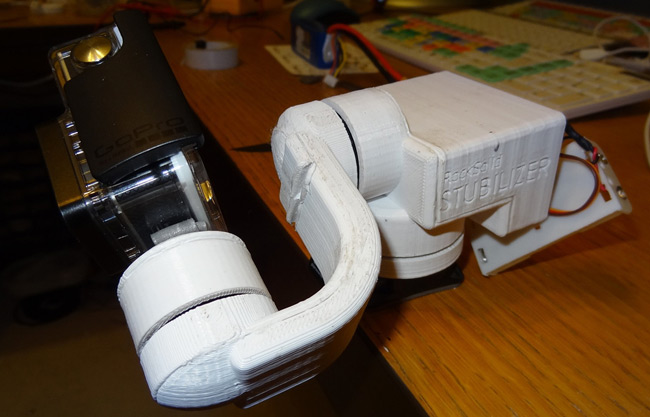 Awaiting ironing: The current Stubilizer prototype
El Reg: Fair enough. How much are you looking to raise?
Stuart: £50k. That's what I need for injection moulding, part orders, assembly in bulk, warehousing, and a stable base for future production. I don't intend to take any personal profit from that, nor am I paying myself a wage or taking any of those funds for my expenses so far. It will all be invested in the company.
However, I can't afford to lose any more time, so I'm moving forward on the assumption that I can raise the cash. I've already probably spent £3k+ on the printer and parts, so what the hell - in for a penny, in for thousands of pounds.
El Reg: Vital question: How much will the finished Stubilizer be?
Stuart: I'll be pricing the initial Kickstarter run at £299 each including battery and charger, so I need around 167 or so people to pony up.
El Reg: Sounds like you're on your way. I was going to ask you to apologise for the truly terrible "Stubilizer" pun, but it appears you have linguistic support from an Oz outfit also involved in vital stabilisation work.
Stuart: Yeah, I found that link too! No idea why they called it that though unless it's for the same reason.
El Reg: The name must come from "stubby", as our Australian cousins call beer bottles. Evidently their device is doing vital work Downunder maintaining a stable beverage.
And speaking of beer, I note in one of your snaps you use a webcam so you can monitor print progress from the boozer.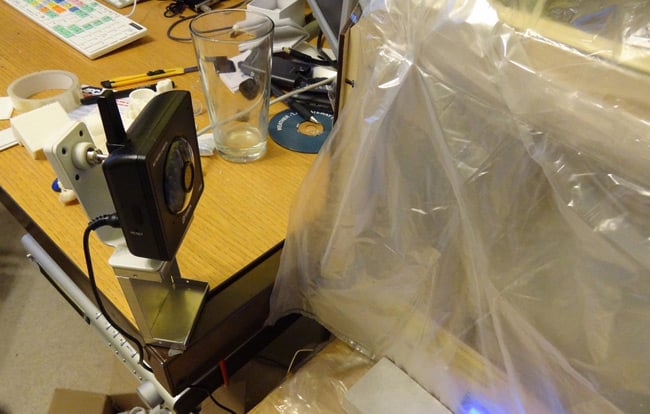 Right, that's running, let's hit the pub
f
Stuart: Well, these things take hours to finish. What's a man to do? ®
Sponsored: Minds Mastering Machines - Call for papers now open