Reg reader crafts 3-axis GoPro 'Stubilizer' for skull-mounted cameras
'Vertical learning curve' for CAD and 3D printing novice Stuart Smith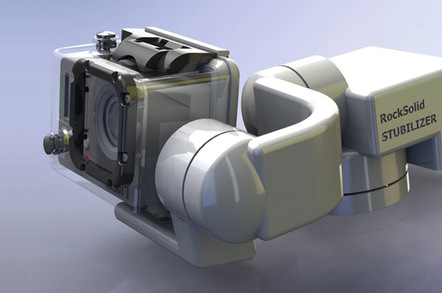 Interview As our title suggests, we at the Special Projects Bureau like a nice project, so we're pleased to share with you today reader Stuart Smith's ambitious 3-axis stabiliser for the GoPro HERO3 - dubiously dubbed the "Stubilizer".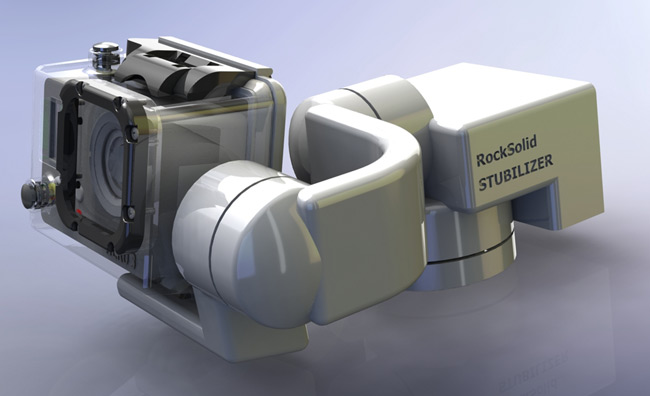 The Stubilizer in 3D rendered glory
Stuart's an IT consultant based in Ipswich, Suffolk, but when he's not fiddling for his supper down at the likes of British Airways, he's slaving over a hot 3D printer in his pursuit of his dream to take the stabiliser market by storm.
He and his company RockSolid Technologies will shortly be rattling the tin on Kickstarter, hoping to raise cash to get the Stubilizer into full production.
The development process has been heavy on CAD and 3D printing, so we asked Stuart - who was a novice in both areas when he started the project - to explain just how the journey to the current working prototype has been. Read on...
El Reg: What inspired your cunning plan for world camera stabiliser domination?
Stuart: Aha... seven years of trying to get good in-flight video while flying my paramotor and paraglider with helmet-mounted cameras.
I'd previously tried servo-based stabilisers but they were rubbish. In Jan/Feb last year a bloke in Russia, Aleksey Moskalenko, came up with a novel way of using brushless motors instead of servos in gimbals. - initially rewinding motors by hand into a different wiring pattern which let them become more like "torque brakes" than motors.
That technology progressed last year, initially as 2-axis stabilisers (roll and pitch only). As an avid RC quadcopter flier, I was on the bandwagon from day one.
By the third quarter of last year; 3-axis controllers had started to be supported (yaw added), and I build many DIY versions cobbling together bits of gimbals from here and there.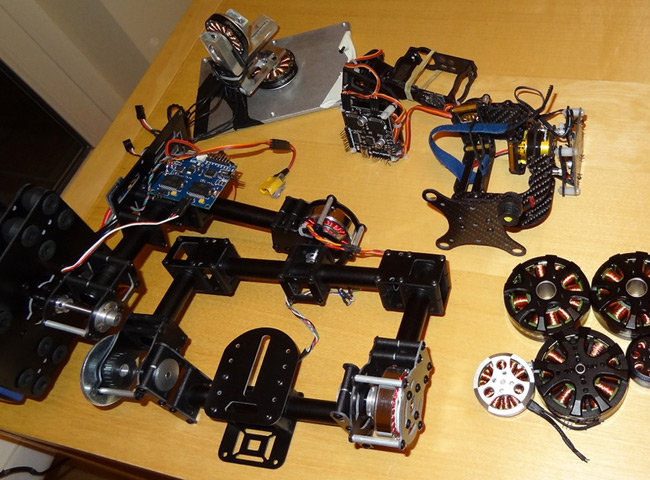 Some bits from Stuart's early cobbling
And, by the end of 2013, a fair number of 3-axis gimbals were available from from China for R/C use. However, what they all have in common is:
They are all pretty DIY looking things with wiring hanging off them everywhere. Usually the pictures don't show the wires, or the controller, so the end result looks like a rats' nest.
They need setting up on a computer, which needs the user to know what they are doing, farting around with closed loop PID controls and the like.
They are all for either handheld or R/C use, using potentially dangerous LiPo batteries.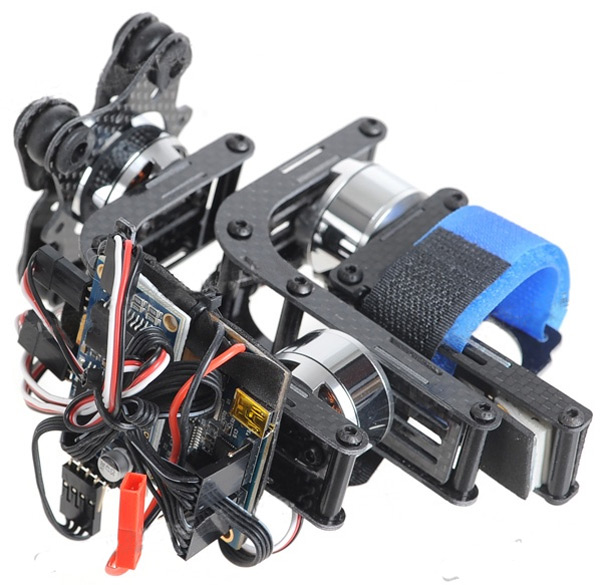 Room for improvement: A typical Chinese-made 3-axis gimbal
El Reg: Room for improvement, then. What were your initial design criteria?
Stuart: I wanted to create something that was:
Sleek and robust with no wires anywhere.
Works in the more aggressive area of action POV sports.
A consumer device - no computers required, no LiPo batteries, and balance chargers, etc.
Able to hold a GoPro INCLUDING the protective case - unlike everything out there.
True plug-and-play for the GoPro POV market - paragliding and paramotoring, mountain biking, skateboarding.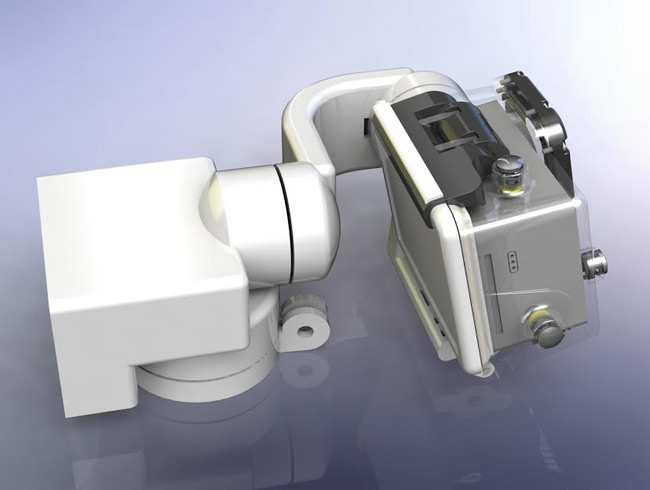 Sleek and robust: Another rendered view of the Stubilizer
El Reg: So, the rig is powered from the GoPro battery or does it have its own supply?
Stuart: No, it has its own battery in the design - the box at that back houses all the electronics and the battery. The GoPro hasn't exactly got stunning battery life as it is (you're lucky to get an hour out of it), so sucking power out of that wasn't feasible.
El Reg: Where are you at with the project?
Stuart: I've completed all the technical challengers - can it work, is it robust enough, are the motors powerful enough, are my chosen batteries safe, and do they have sufficient capacity. I've also made several electronic changes that no one else has which get rid of one of the main problems with current 3-axis gimbals - that of the yaw "losing its direction" after it is knocked off. Mine ALWAYS comes back to straight ahead.
I'm in talks with local assembly companies and Chinese companies for parts and circuit boards.
El Reg: What 3D kit are you using for prototyping?
A FlashForge dual extruder. It's a clone of the MakerBot Replicator, but arguably better. Weirdly, the Chinese are producing a clone which is , in my opinion, superior to the original.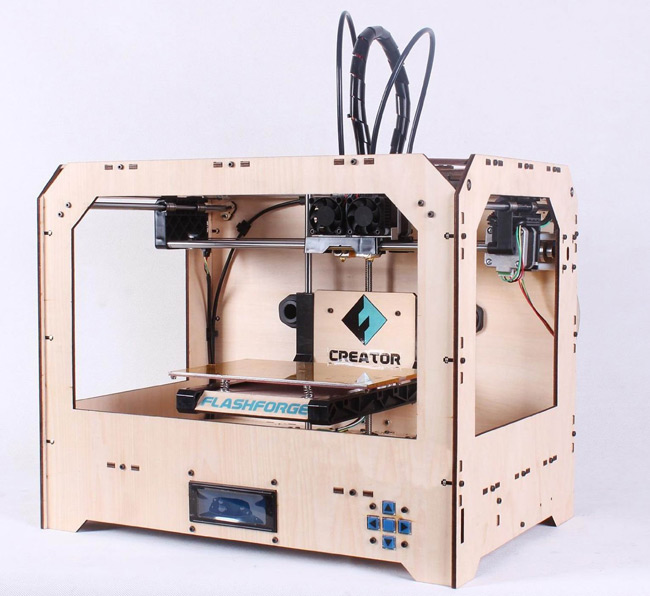 Attack of the clones: FlashForge dual extruder
El Reg: Did you have any previous experience of CAD or 3D printing?
Stuart: No. Bog all. It's been a bit of a vertical learning curve to be honest. From weeks trying every CAD package under the sun before finding one that I though could do the job, and be used by someone with an IQ of less than 300, to then trying to actually learn how to "build things" rather than just how to use the CAD package.
Sponsored: Minds Mastering Machines - Call for papers now open