Brit IT slinger Azzurri's CEO quits to spend more time with family, less time with the M25
Vithaldas to exit in July after backers scrap debts of £282m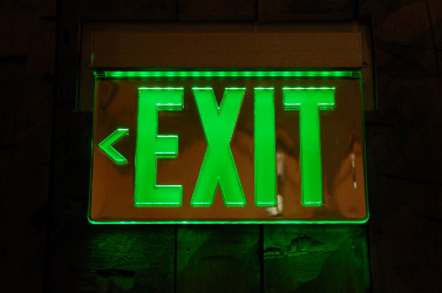 Troubled south-coast UK comms integrator Azzurri has confirmed CEO Vim Vithaldas will step down for "family reasons" in July.
The veteran exec was brought in by the banking syndicate that owns Azzurri in December 2011 after previous boss Mark Quartermaine left for Capita ITS – but it was a choppy couple of years at the top.
The biz stabilisation project he inherited was no walk in the park as Azzurri was carrying massive debt following a string of acquisitions around the mid-2000s under another previous CEO, Martin St Quinton.
Vithaldas was unable to arrest the sales decline nor return the company to profit in fiscal 2012, ended 30 June that year (although he'd only been on board six months by that point). Meanwhile, the company had to shell out £23m on debt interest repayments in that financial year alone.
To deal with this crippling issue, the Vithaldas-led Azzurri underwent the commercial equivalent of open-heart surgery on two occasions to clean up its balance sheet. In fiscal 2012, the seven-strong banking syndicate decided to write off £224m of debts that covered unpaid interest, carrying forward losses, bond and loans.
The bottom line slide continued, with unaudited sales for fiscal 2013 falling to £114m from £126m a year earlier, Azzurri confirmed, although full P&L accounts have yet to be filed at Companies House. This decline was hardly out of sync with the rest of the industry.
The integrator was, however, still burdened with debts of £103m, and in a second refinancing round last August, the banks reduced the interest-bearing debt to £25m, and invested £3m in the firm's Cloud Optimised Network.
The smaller debts should feed through into meaningful profits if the underlying operation holds up.
A PR hand at Azzurri told The Channel that following "successful refinancing", the CEO has "decided for family reasons that he cannot continue his assignment beyond July 2014".
Talking to El Chan, Vithaldas, quipped: "I genuinely cannot face half of the M25 on a daily basis", in reference to his journey to the office.
"I came in to do a turnaround job, it was a tough situation that I inherited, but the business is more stable than it has been for seven or eight years," he added.
"The balance sheet, the biggest hindrance of the business, is now sorted. We concluded the refinance in October and already the shape of the business is different."
Chairman Steve Andrews expects a successor to be announced "during the coming months". ®
Sponsored: Minds Mastering Machines - Call for papers now open