If you reckon Google will never tap into Nest's Wi-Fi thermostats, guess again
What exactly do you think the web giant blew that $3.2bn on?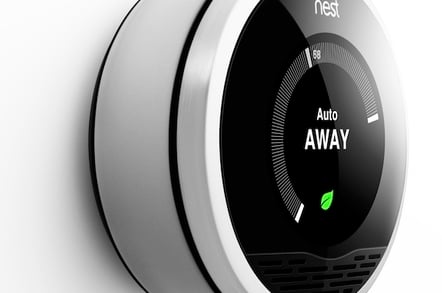 Video Nest, the smart-home sensor maker that Google just bought for $3.2bn in cash, has hinted that it may change its longstanding policy of keeping customer data private.
In a Q&A at the Digital-Life-Design conference yesterday, Nest CEO Tony Fadell suggested that information collected from his upstart's Wi-Fi-connected thermostats and smoke alarms may be shared with a third-party (say, an internet advertising overlord) in the future.
"At this point there are no changes. The data we collect is all about our products and improving them," Fadell said on stage at the event in Munich (our emphasis).
"If there ever are any changes, we will be sure to be transparent about it and you will have to opt into it. We have no changes planned and the data is to stay in Nest."
Youtube video of an interview with Nest CEO Tony Fadell
Sensors made by Nest gather temperature readings and other information to control the user's heating systems, learning how best to warm a home to suit its user's habits. The wireless gadgets then upload the data to Nest's cloud so the company can refine its products – and that's a lot of useful information about when people sleep or are out of the house, the levels of comfort they expect, and so on. A $3.2bn database of information.
Fadell said he'd been won over by Google because Larry Page and others "got it," when he explained where he wanted to take the company. Nest doesn't just want to build home appliances, but to create an ecosystem where all devices can talk to each other and realize the promise of connected homes made in the 1950s Fadell opined.
Google was just the company to do that he said, and the buyout also freed him from the worry of having to keep the company financed during the expansion phase. But it's reasonable to expect that Google is looking to get some return on its investment outside of selling the beefy gizmos for the home.
Fadell's assurances will calm the fears of some, but it seems likely that Google will want to access the information connected by those sensors. Services like Google Now would benefit from the kind of data Nest collects for example and at $3.2bn is an awfully large amount of money for a company with two products and seemingly nothing else. ®
Sponsored: Learn how to transform your data into a strategic asset for your business by using the cloud to accelerate innovation with NetApp