Google cleared to land in private terminal at Silicon Valley airport
Heavy-hitting honchos headed for high-class hangar hangout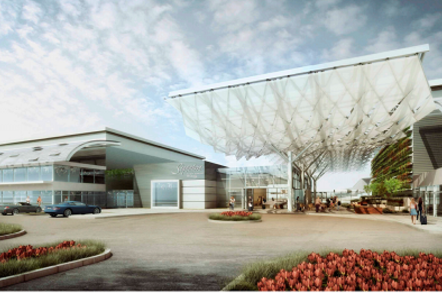 Mineta San José International Airport has announced a deal to build a private terminal catering to Silicon Valley executives.
Airport officials on Friday revealed a deal for a 50-year lease with private jet specialist Signature Flight Support to build a terminal catering to private jets and corporate aircraft. Among the first tenants of the new airport will be Google, which will use the new terminal as a replacement for the Moffett Field facility that currently houses executive and personal craft for the company.
Under the deal, Signature and Blue City Holdings (the LLC which oversees Larry Page and Sergey Brin's private jets) will kick in $82m to help build and maintain a new airport terminal designed exclusively for private jets.
"I am pleased that we are moving forward with development of the airport's west side which will generate significant revenues to the airport and the general fund, and accommodate future growth in the demand for general aviation services in Silicon Valley," said San José city mayor Chuck Reed.
"Signature Flight Support's development proposal will help the city of San Jose accomplish both of these goals," Reed said.
The addition of the private facility will add a corporate jet hub to the Silicon Valley region, which will accommodate smaller personal jets along with large corporate aircraft such as Boeing 737 and 767 configurations.
While the area already houses international airports in San José, Oakland, and San Francisco's facility in San Bruno, just south of the Cool, Grey City of Love, Google's executives and other jet owners have been pushing for a private terminal to be added at Mineta. Currently, Page and Brin house their craft in a decommissioned portion of NASA's Ames Moffett Field facility near their Mountain View Chocolate Factory.
Google has become something of an accidental player in the Bay Area's transportation sector in recent months. The company's private bus fleet has drawn the ire of San Francisco officials for using the city's bus stops as pick-up points, and become a lighting rod for protesters decrying the gentrification threatening traditionally diverse working-class neighborhoods.
The company has also invested in a burgeoning boat fleet, deploying a pair of barges as mobile showrooms and renting out a ferry craft to help carry employees to and from its Mountain View campus. ®
Sponsored: Minds Mastering Machines - Call for papers now open