MANIC MINERS: Ten Bitcoin generating machines
Crank out those coins: A selection of tools for the new Gold Rush
Bitmine Coincraft Desk

Bitmine is a Swiss company that has proved its competency doing Avalon clones and has now announced its own processor called Coincraft, a 28nm chip designed to for low-power operation so more of them can be used at once.
As is the industry norm, it is late. Bitmine was supposed to get chips back in November and ship hardware in December, but only received chips on the last day of the year. It has shown working hardware using test boards but not shippable product, although final kit is now expected to ship in March. A three-month delay is hugely significant in the Bitcoin world.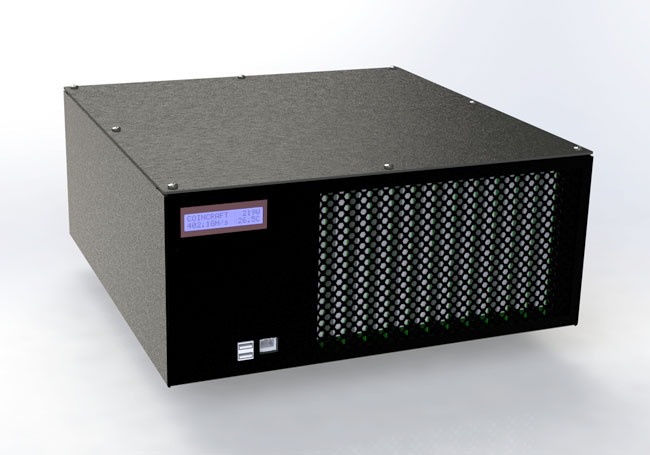 It is very much harder designing an ASIC than to design boards based on other people's chips. Bitmine has announced Coincraft Desk which is a desktop unit, and Coincraft Rig, a 4U rack-mounted unit. The box is an empty shell and you buy cards which are rated at 200GH/s each, and you can put up to ten cards in a box.
A fully loaded 2TH/s box is $12,000. This is controlled by a Raspberry Pi which one expert feels might work for a few cards but might not be fast enough for ten. They estimate that an over-clock to 2.8TH/s will be possible with a 3kW power supply but this seems optimistic on both fronts. A 110-230V power supply is included, but US household circuits are typically not capable of delivering 3kW through a single power supply.
BlackArrow Prospero

BlackArrow is a Chinese company which has moved on from an FPGA based on public domain designs to its own chip which shows a history of competence. The short Chinese supply chain is a huge benefit. It has announced a 20nm chip, Minion, but has not taped out yet so is currently selling systems with the Bitfury chip on board. It has a $1,000 board with 16 chips rated at 36-40GH/s and is working to use this to fund development of its own processor. This is specced at 1.56GHz, over-clockable to 2GHz, with 64 cores and 0.5W per GH/s. But this is all modelled rather than measured.
BlackArrow is taking orders for the chip at $373 and claiming a 20 April delivery – a slip of five weeks from the previously announced delivery date.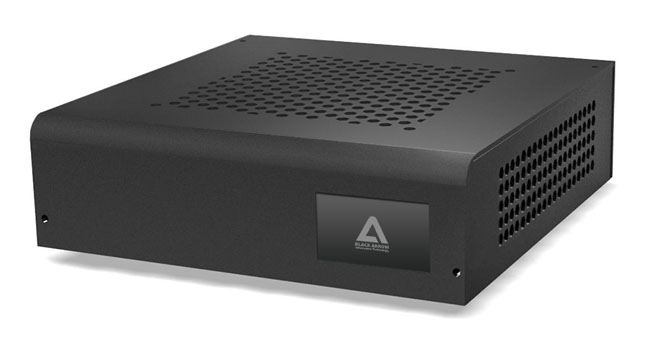 The company also offers the Prospero X1, a desktop unit with it's own processing, power and Ethernet. It claims out-of-the-box functionality with a web interface, and that it is both silent and low power. For a 100GH/s device this is taking big.
A rack-mounted unit, called the Prospero X3, is an enclosure with ten cards, each taking two of BlackArrow's 100GH/s chips. So 2TH/s for a very reasonable $5949. If you have some spare rack space this might be the one to go for.
ButterFly Labs Miner

Until recently, ButterFly was the company that had shipped the most hardware and made the most money, though now it has been overtaken by KnC. Still, its success has made it a lot of enemies, largely because it took money promising quick delivery dates and then didn't ship, or offer refunds.
This is not a scam company despite, and it says a lot about the Bitcoin hardware market that this is one of the more respectable companies around. Plenty of outfits are advertising equipment with impossible dream specifications they can't possibly expect to ship, but ButterFly Labs has shipped huge quantities of kit. Its reputation, however, stinks.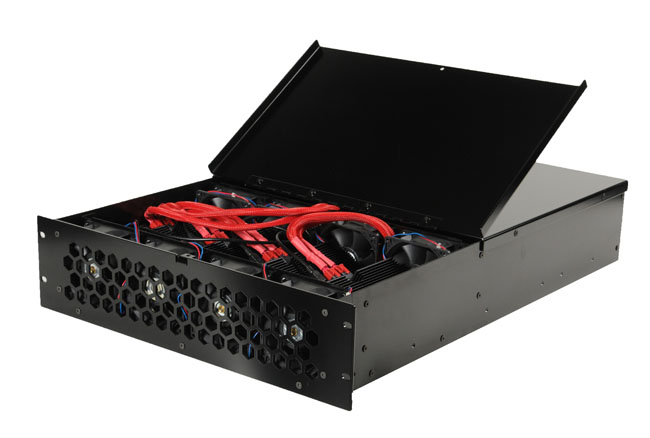 ButteryFly Labs current product is the desktop 10GH/s Miner and 25GH/s Miner. It also offers the rackmount 230GH/s Miner for $4,255 with 65nm chippery on board. It has announced a 28nm chip called Monarch, which is due imminently. It plugs into a PC graphics card slot to produce 300GH/s and 600GH/s at $1,497 and $2,196, but the reliance on the PC to provide power and cooling introduces significant uncertainty, relying on the user to understand some of the biggest problems of mining: power and cooling. The power is PCIe and does not use the bus rails.
Still if you want something you can sneak into the PC under your desk at work and steal electricity from your employer it has a stealth advantage. The past reliability of delivery on time has been more akin to Sinclair Research's "allow 28 days for delivery" than people have come to expect in the age of Amazon and eBay next-day delivery.
CoinTerra TerraMiner

Of all the Bitcoin companies, CoinTerra is the one with the most chip design experience. The CEO was the lead CPU Architect at Samsung, working particularly on mobile. A mobile processor needs to balance three things: power consumption, heat generation and size. For Bitcoin mining only the first two matter, but mobile experience is invaluable and most of the CoinTerra team have worked in mobile.
The company taped out on 9 November and got wafers back on 28 December - an incredibly fast turn around guaranteed by paying expedite fees to Global Foundries in Dresden Germany - and then shipped to Taiwan for packaging. Its reputation is good on the basis of keeping customers up to date, although is has not shipped anything.
Engineering updates come thick and fast. It seems to be on target to ship this month. The ASIC is called Goldstrike I and has 120 hashing units on each die to give an anticipated minimum of 500GH/s on each chip based on yield. Bitcoin processors often ship with some hashing units failing in the manufacturing process. The chip has four dies.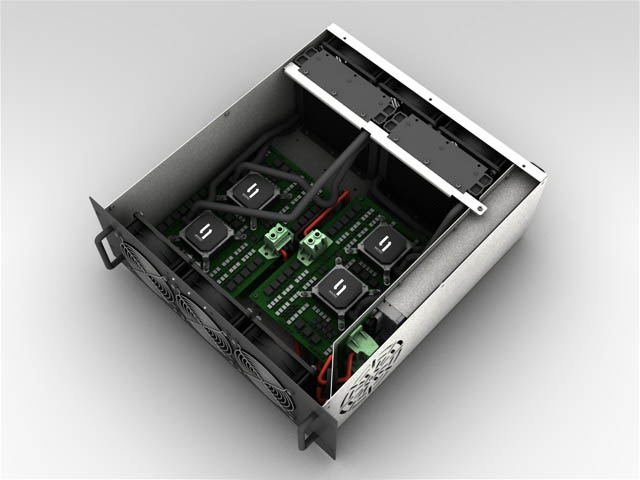 The chip will go into the TerraMiner range of products, most of which have been discontinued: only the TerraMiner IV is currently on sale. It has four chips to give 2TH/s. The 4U box has two power supplies of 1.1kW each mounted out of the cooling stream with five fans front and back blowing air through custom liquid-cooled heat exchangers and liquid cooling the top of the chip. CoinTerra seems to have given the most thought to the thermal problems of Bitcoin mining and for 'professional' use, but the majority are not sold to data centers.
The 2TH/s box costs $6,000. Processing is done by a BeagleBone Black, a Raspberry Pi-alike open source board running at 1GHz.
This seems to be the best thought-through of the devices here, particularly if you have some rack space looking for something to fill it. But it hasn't shipped yet, but is nonetheless taking orders for May delivery. Unusually for a clean company, CoinTerra has a decent looking website, but don't let that put you off.
Hashfast Sierra

Hashfast is a very aggressive company in possession of advanced technology and a legal team. It designed and taped out its chip very quickly. Its warranties are short too: customers only got a ten-day grace period. Many rivals offer 90 days to lifetime coverage. Hashfast promised and charged for an 20 October delivery, and while it contracted to deliver by 31 December, it is yet unclear how many machines went out on that date. It may have just made the deadline, but has also offered to issue refunds.
Customers who paid in Bitcoin were promised on the Bitcointalk forum that if Hashfast had to issue refunds, it would do so in Bitcoin. However, as the contract said refunds would be in dollars, it is now only offering that currency. Since $2,000 worth of Bitcoins in October would be worth $10,000 now, this has unsurprisingly ignited the ire of those who pre-ordered.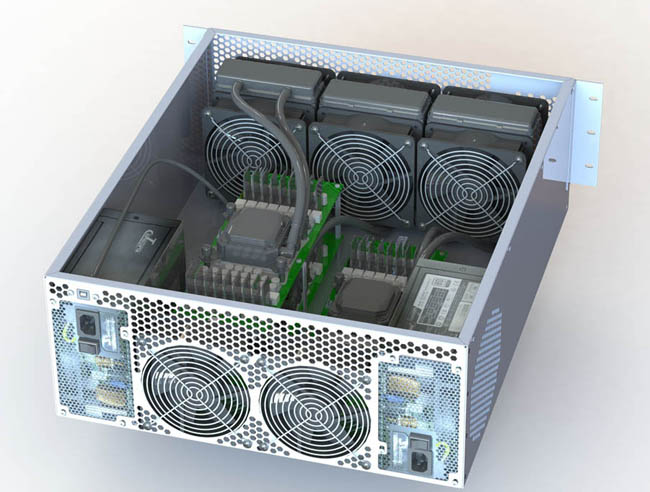 The equipment is based on the company's own 28nm "Golden Nonce" - yes, really - processor. The specs are as impressive as the name is dumb: a claimed 400GH/s per ASIC running at 550MHz, with headroom to overclock to 500GH/s. One press release claimed 667GH/s over the four cores. Hashfast also claims the lowest power consumption in the industry: 0.67W per GH/s.
There is a sensible looking range of products, with the tower cased 400 GH/s Babyjet at $2250 and the rack mounted Sierra at $6,300. The latter is rated at 1.2TH/s.
KnCMiner Neptune

Swede Andreas Kennemar and Brit Sam Cole had a business in Sweden building chips for algorithmic trading on stockmarkets but merged with ORSoC to form KnCminer which specialises in Bitcoin processors and miners.
This Register list of products may be in alphabetical order and not worst to best, but KnCminer is the last on the list and significantly the best. It clearly doesn't understand how to run a Bitcoin miner business because it tells the truth. All the time. It is good at customer relations and amazingly it under-promises and over-delivers. It even has a website which works well.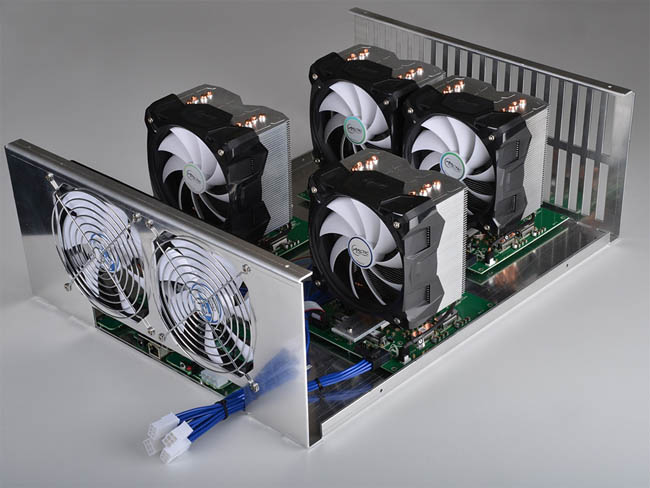 The result of KnCMiner's technical skills, time to market and honesty is that it is the most successful of the Bitcoin mining hardware companies.
The hardware is based on a processor designed by the Brobdingnagian Marcus Erlandsson, co-founder and boss of the ORSoC half of the company. The initial, Jupiter device has sold out and KnCMiner is now taking orders for the Neptune. This is claimed to be the first 20nm device which brings the total hashing speed for the $10,000 box to 3TH/s.
Shipment dates are hazy - all it's saying for now is Q2 - but unusually you can have some confidence in that. More coins are currently being mined using KnCminer than with any other hardware.
Conclusion
Bitcoin mining is hard. Ignoring the software side, protecting wallets and the like, some of the people advertising kit are charlatans. Companies that operate as you'd expect a business to do stand out as saints in this market. CoinTerra and KnCminer are two such paragons.
Generally the idea of plug and play is laughable. Some experience of overclocking PCs, Linux, using a Raspberry Pi and network admin goes a long way and customer support comes from forums and communities rather than from the person you bought the kit from.
Or you could just invest in Bitcoins. If the current rate of growth continues over the next ten years one Bitcoin will have gone from being worth nothing five years ago to worth more than all the money in the world today. It makes the Triganic pu seem wieldy. ®