HP EliteBook 840G1: Sometimes it's an Ultrabook, sometimes it's not
A 14-incher that's more for spills than thrills
Security conscious
Luckily, you can skip several levels of security, including the biometric finger print reading, but when all was done and I rested my hand on the reader again, another message popped up telling me how it had detected that I was trying to use the fingerprint reader: "Do you want to enroll your fingerprints now?" it asked. No I bloody don't. Fortunately, it featured a "Do not show this message again" checkbox. So far so good. Still, those security options are all there for a good reason and the EliteBook 840G1 features a SmartCard reader too.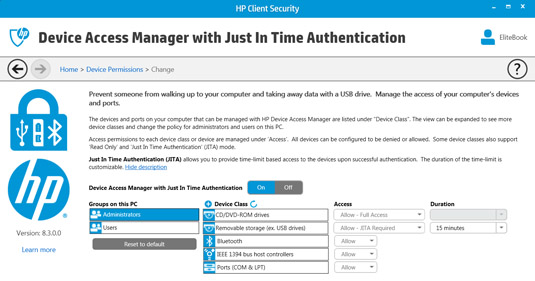 HP Client Security provides timed access to devices – click for a larger image
And so the security shuffle began in earnest with slower start-ups as HP's Client Security did what it's supposed to do, gearing up additional protection and interrogating just about anything that could be plugged into the EliteBook. Thanks to its Just In Time Access (JITA) window of opportunity, by default USB sticks get booted off after 15 minutes – but this behaviour can be customised to suit.
It's worth getting familiar with these features, though, as they drill down to BIOS level and I had to get through security to enable alterations for Linux testing, changing the device boot order and opting for Multiboot made this very straightforward.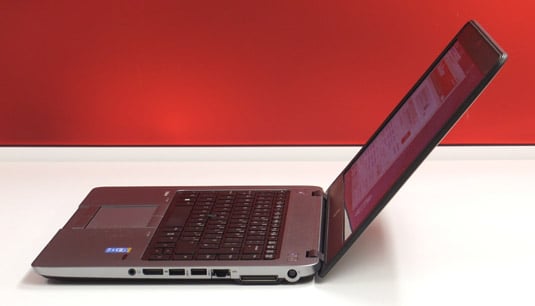 The slot on the right is for the docking interfacing
You get two USB 3.0 ports per side and you can hook up additional monitors using either the VGA port, which according to HP's own tech docs won't deliver 1080p, or the full-size DisplayPort option, which will. On the right and out of sight is an SD card slot in the base. You get Gigabit Ethernet too and alongside it a docking interface for an optional port replicator. It's a shame it doesn't offer an additional interface, such as HDMI, but the combo mic/headphone jack on the EliteBook does appear as separate jacks on the dock, though.
Talking of audio, the speaker output is modest but loud enough for one-to-one movie viewing - an opportunity to take advantage of that full HD screen. DTS Studio Sound version 6.1 is provided to help enhance the speakers situated in the grille in front of the display. A bit of tweaking will help soften the sound a little, but you'll not be troubling anyone with too much bass – there isn't any.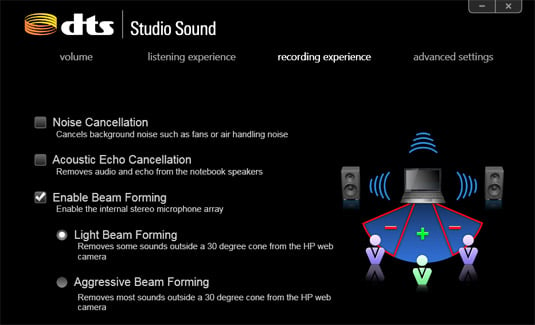 DTS Studio Sound noise cancelling functions
Apart from music and movie set-ups, the DTS control panel handles the beam forming and noise cancellation; functions that the two mics either side of the webcam can entertain. The webcam itself relies on Cyberlink YouCam 4 which makes the most of the 720p image resolution, with fairly decent colour balance and not too heavy on the contrast.
Power broking
On the move, the 14in form factor works out well compared to a 15in model. It's lighter for a start and with that full HD desktop real estate you certainly don't feel like you're missing out on anything. I've been lugging it around for some time now and it's only when I carry the power brick and cable too that the balance tips from 'marginal' to 'noticeable'.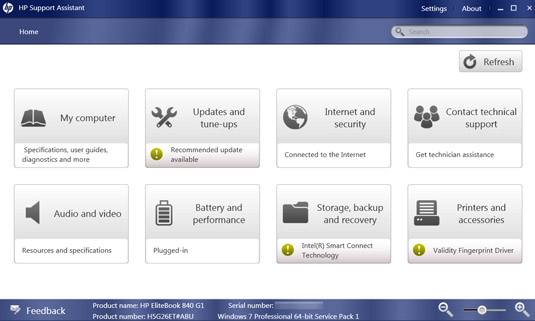 Support Assistant centralises a useful selection of functions and relevant updates
Depending on what you put this Core i7 EliteBook through, you could end up needing that power brick as the battery life isn't as enduring as you might expect. I couldn't find any quoted figures from HP either, apart from "up to 33 hours if you attach the slice battery optional extra", which sounds ambitious. Relying on just the internal battery, PCMark 8 churned out a score of 3hrs 5mins which you can typically double for everyday tasks and in most cases I managed around 4-5 hours.
You can try for longer with the default power saving mode which overdoes it a bit on the screen dimming. Also, you'll need to keep an eye on the keyboard backlighting (and remember to turn it off) as it doesn't appear to have an ambient light sensor and comes to life in broad daylight when you start typing. Lest we forget, you can actually swap out the 3-cell, Li-ion 4350mAh, 50Wh battery in the EliteBook thanks to its easily-removable latching base plate.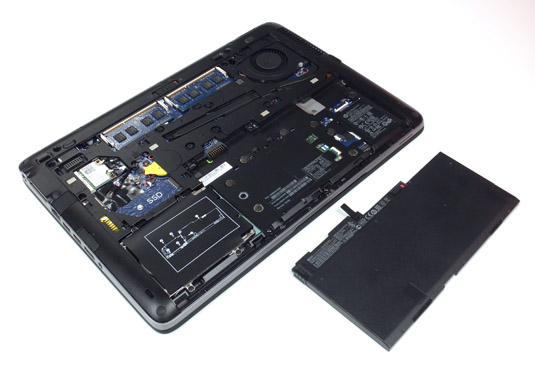 Battery swapping – remember that kids? Click for a larger image
PCMark 8 also clocked this HDD Ultrabook at 2581 with a casual gaming frame rate of 20.1fps, which would naturally improve at a lower screen resolution. Being a Windows 7 Pro machine I gave it a spin with PCMark 7 too, which delivered a far more generous score of 3052. Incidentally, there were no Windows 8.x discs supplied.
And so to Linux. For this review I thought I'd give openSUSE 13.1 a spin, as SUSE for PPC was the first distro I ever grappled with back in 2000. Oddly, the configuration on the USB stick using the Pen Drive Linux installer wasn't recognised using HP's F9 key boot volume prompt, although the stick with Mint Linux on it was seen and worked fine. Yet after setting up the aforementioned Multiboot option, openSUSE booted up perfectly. The KDE version looks a bit different to how I remember it though…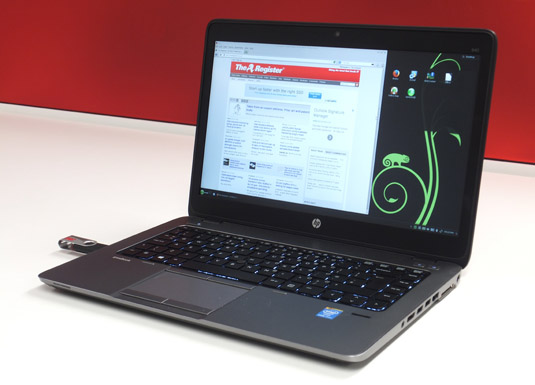 After a bit of tinkering, herewith openSUSE Linux
The Reg Verdict
As a daily workhorse, it's easy to get comfortable with the EliteBook 840 G1 – its 14in form factor and full HD display hitting a sweet spot for portability, productivity and practicality. There are some compromises though and battery life is the most obvious and may be the reason why HP is somewhat ambiguous about which models qualify as Ultrabooks, so it's just as well you can easily swap out the power pack for another.
Relying on an HDD does undermine the benchmark performance but it's not especially noticeable once everything is running. There's an M.2 flash cache option to give the EliteBook 840 G1 a shot in the arm, which sounds like a great idea - if only HP could find them. ®
Sponsored: Minds Mastering Machines - Call for papers now open

HP EliteBook 840G1: Sometimes it's an Ultrabook, sometimes it's not
14in full-HD Ultrabook with a dual-core Intel Core i7-4600U CPU, AMD Radeon GPU, 8GB of RAM and a 500GB HDD. Also features ruggedised form factor and a comprehensive security suite.