How flash storage raced from glory to despair in 2013
And back again. For some...
Troubles? Oh, there's been troubles...
Some flash firms encountered significant troubles during the year. Let's start with Fusion-io
Fusion-io
PCIe flash HW and SW pioneer Fusion-io bought hybrid flash/disk storage array startup Nexgen in April, after having bought ID7 and its turn-PCIe-flash_into_storage-arrays technology in March. But then, in a startling turn of events co-founder and CEO David Flynn was ousted/resigned in May by incomer, and former HP and Compaq bigwig, Shane Robison who became CEO in his place. The Robison creed was to make profits and not grow the company's technological prowess willy-nilly.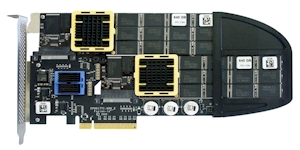 Fusion-io ioDrive Duo.
He spent the year re-fashioning Fusion-io, dealing with OEM channel problems and recruiting some fresh execs. The firm now looks to have the infrastructure in place to grow, but steadily and not like a rocket because there is a whole load of PCIe flash card competition out there: Intel, LSI, Micron, Seagate/OCZ, WD/Virident, Violin Memory and others.
Violin Memory and the Sloop Don B
Violin Memory, the flash array market leader, had an IPO last September with shares priced at $9.00 and the stock price subsequently crashed to a third of that because Violin could not make profits and its deepening losses outweighed its less than stellar revenue growth. There was a widely-held view that its native SW technology lacked deduplication and other storage efficiency, management and protection capabilities.
Partnerships with software suppliers Symantec and FalconStor were not felt to be satisfactory substitutes. Things came to a head with a $34m loss in the third quarter of 2013 and the pace of events picked up; SW CTO Jonathan Goldick left in early December with CEO Don Basile terminated by the board in mid-December. Chairman Howard Bain III stepped in as interim CEO and ship-steadier, and a new CEO signing is expected shortly.
We can note too that WD's purchase of sTec was a white knight acquisition for that troubled firm. OCZ's crash came after a tortuous struggle to remain a viable business in the face of catastrophic customer incentives programs offered during a previous CEO's reign. Fortunately Toshiba stepped in to pick up the pieces and joint Toshiba/OCZ SSD product has just been announced
What of this year, 2014?
There are, obviously, too many all-flash array suppliers and some consolidation will have to take place. Skyera's technology may make it a good buy for someone. It's hard to see how Kaminario, Nimbus Data, Pure Storage, Solidfire and Violin Memory can all survive and prosper against an onslaught from Cisco, Dell, EMC, HDS, HP, and IBM. There will, we predict, be blood.
Hybrid array happiness
Troubles in the all-flash array business contrasted vividly with the general health of the hybrid flash+disk array business.
Hybrid array suppliers, well, three of them, boomed in the shape of Nimble Storage, Tegile and Tintri. Alas, poor Starboard Storage put up a For Sale sign in March and was gone by the end of the year, purchased by SGI. Hopefully it will come back strongly this year.
Nimble Storage had a triumphant IPO in December while both Tegile and Tintri reported fast growth and infrastructure build out. We may see one or both of them IPO this year or early in 2015.
All three say their ground-up designed software gives them a sustainable competitive advantage versus the traditional disk storage array vendors. These, of course, stiffed SSDs in their drive bays and flash in their controllers but had to do so with operating systems designed for disk and systems priced higher than the hybrid start-ups.
Something has to give and we may see an acquisition in this area this year, 2014, as an incumbent supplier decides a ground-up hybrid design is the way to go.
Constraining factor
Flash storage is hot but it's not easy money for the startups. Flash foundry capacity is limited and will stay limited, foundries costing $10bn a pop. Crudely speaking though, flash is the new disk, disk is the new tape (for nearline and backup data) and tape is the archive. The flash is located in the same premises as the servers, sometimes inside the servers, and all three storage media devices can be located in public clouds.
But there isn't enough flash being made and security of chip supply is coming to the fore, as is the growing presence and influence of NAND foundry operators, like Samsung and Toshiba in the business of packaging flash chips into products. We can point to the Seagate Samsung relationship here as well as the Toshiba-Violin nexus, Toshiba's OCZ purchase, and Toshiba foundry partner SanDisk's purchase of SMART.
There may be more of this in 2014. We might also see:
Servers adopt flash DIMMS
A PCI flash card supplier shakeout
One or two all-flash array startups collapsing or struggling to survive,
Mainstream storage vendors selling boatloads of flash arrays to their customers
And we should certainly see NetApp's ground-up designed FlashRay all-flash array appliance as well as having Cisco's flash array strategy clarified and EMC's ScaleIO system become more visible and ... it will just carry on at a frenetic pace because ... Flash. Is. Fast. And. Furious. ®
Sponsored: Learn how to transform your data into a strategic asset for your business by using the cloud to accelerate innovation with NetApp