Two websites you should show your boss if you want to be paid in Bitcoin
Now if only your landlord, tax man and just about everyone else accepted BTC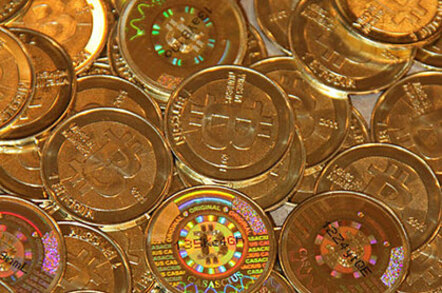 Bosses being nagged by savvy staff to write out paychecks in Bitcoins now have a choice of BTC-friendly payroll systems.
Atlanta-based US biz BitPay is the latest firm to announce an online service for paying employees in the digital money: it unveiled its BTC payroll tech yesterday as a beta for employers and payroll outsourcers.
Each worker just has to provide a Bitcoin receiving address, and adjust how much of their pay packet should be paid into their Bitcoin wallet. Dollars are converted into the cryptography-based currency on payday using a weighted average price calculated by BitPay every 24 hours.
And, of course, Bitpay's CEO Tony Gallippi and three other employees draw their entire salaries in BTC. The company isn't the only outfit to offer such a service, though – Canadian startup Wagepoint claims it was the first by launching support for BTC in November.
Bitpay's beta payroll system emerged in public just days after web department store Overstock started accepting in Bitcoins from customers. And banks in Asia are experimenting with Bitcoin-spewing ATM machines.
Governments, meanwhile, are still pondering how best to regulate the digital money and its many copycats. China has decided to nix the use of Bitcoin altogether, banning any use of the e-cash in financial transactions.
BitPay marketing veep Stephanie Wargo told The Reg that her company wanted to offer an easy and affordable way for employees to dip their toes into the Bitcoin market. While folks should be aware of the risks of BTC, BitPay believes that converting small slices of regular paychecks is a safer way to accrue the fledgling currency.
"It is an easier way to get Bitcoin than going through an exchange," Wargo claimed. "If someone wanted to do, say, 25 bucks a month, it is a nice way to step in." ®
Sponsored: Minds Mastering Machines - Call for papers now open