Apple files foul-up-fixing patent for fumbling slab-fondling flubbers
Jog on, fanboi: your iThing will fix your fluff-ups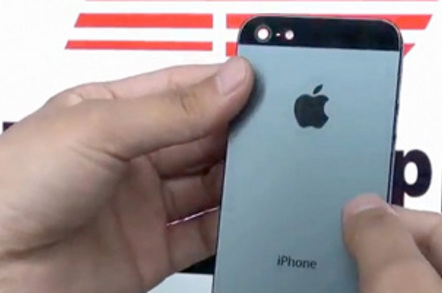 Apple has filed a patent which will automatically filter out mistaken touchscreen commands made by clumsy slab-fondlers.
The new patent can detect the movement of a person as they manipulate their iThing and then make changes to the GUI.
The system can also learn the pattern of a fanbois' mistakes, meaning that when it detects a certain form of motion it will factor in any slip-ups. Run, for instance, and Apple's system will use data from an accelerometer to calculate the movement of the phone, as well as to what degree the user is likely to miss the buttons.
Apple's patent can provide the best possible screen arrangement for any given person's movements. Buttons and icons would become extra huge when jogging or slightly larger when strolling.
To achieve this, the system uses an accelerometer, gyroscope or proximity sensor to work out what the fanbois is doing at any given time.
The patent filing said: "While the user and the device is in motion, the user's dexterity with respect to the touch-sensitive display can be disrupted by the motion, detracting form the user's experience with the graphical user interface."
Apple's filing suggested its new patent could mitigate the "loss in accuracy of a user's interactions with a touch-sensitive display". ®
Sponsored: Minds Mastering Machines - Call for papers now open