Google kicks 'bucket-list' service
Schemer activity: 'take a bullet for the team'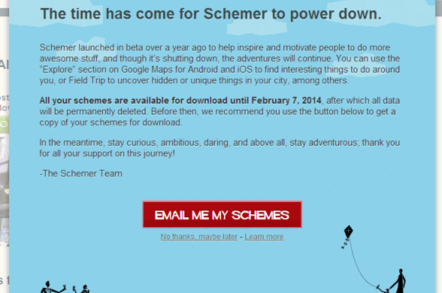 Google Schemer users – both of you – have a new activity to add to your recommendation list: "download and save my data before it's deleted".
The Chocolate Factory has decided that the service, which since December 2011 has allowed users to create what amounts to a shared "bucket-list", is to be discontinued on February 7.
It really didn't seem to bite, though: at the time of writing, all of the ideas promoted on Schemer's home page are more than a year old. Its media partners, like NPR, Lifehacker, and Rolling Stone, gave up thinking of new stuff to add to their to-do lists after the initial flurry.
As is so often the case, The Chocolate Factory has kept Schemer in eternal Beta – meaning that it's yielding the end-of-life stick on something that never had fully-launched status.
Google has been so enthusiastic about Schemer that it can't quite remember when it started: "Schemer launched in beta over a year ago to help inspire and motivate people to do more awesome stuff," the announcement says (well: a little more than two years ago is "over a year ago" – El Reg).
"Though the app is shutting down, the adventures will continue. You can use the 'Explore' section on Google Maps for Android and iOS to find interesting things to do around you, or Field Trip to uncover hidden or unique things in your city, among others.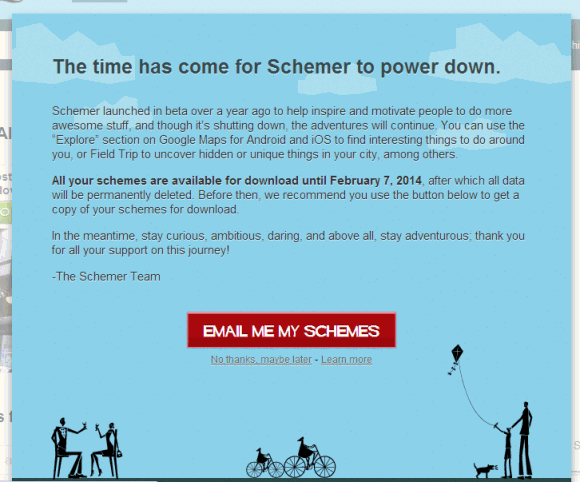 Farewell Schema
"All your schemes are available for download until February 7, 2014, after which all data will be permanently deleted. Follow these simple steps: https://support.google.com/schemer/answer/4427755". ®
Sponsored: Minds Mastering Machines - Call for papers now open