Cygnus cargo truck on its way, and funding to 2024: Space Station is back in the game
Delivery blastoff is another boost for orbiting lab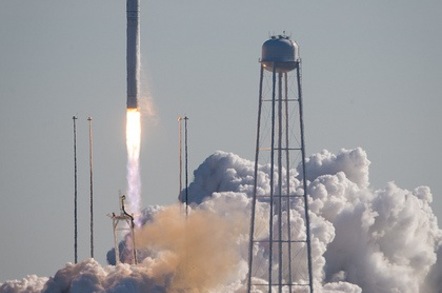 Vid Orbital Sciences is just days from becoming the second private company to ship supplies to the International Space Station.
Today the biz successfully launched its Cygnus space truck, putting the cargo craft into orbit. The team used one of their two-stage Antares rockets to propel the space mule to a 17,500mph cruising speed.
The launch puts an end to speculation on when Orbital Sciences would be able to get its courier craft off the ground. The mission has been beset by an assortment of technical and weather problems including a massive cold front hitting much of the US and an unexpected burst of solar flares that delayed a planned launch earlier this week.
The Cygnus craft – dubbed a "Christmas present" by mission administrators – is now on pace to reach the ISS on Sunday at approximately 0600 EST (1400 GMT). You can watch a video of the launch below.
Youtube video of the Cygnus launch
When it arrives at the ISS, Cygnus will deliver a 2,780lb payload of supplies and science experience equipment to the ISS. The module was named after the late Gordon Fulerton, a former astronaut and NASA pilot who flew airplanes strapped to Orbital Sciences' rockets during tests.
SpaceX is NASA's other out-of-this-world delivery company, having already dropped off goods to Earth's orbiting outpost. Meanwhile, Russia has the job of shuttling humans to and from the station using the country's Soyuz spacecraft, though NASA is developing its own manned launch system, as are commercial firms.
In reflecting on this weekend's delivery, NASA and Orbital Sciences administrators noted that having multiple commercial partners will keep the space station thriving, and maintain regular supply runs and research activity on the heavens-coasting science lab.
The delivery will also come in the wake of an announcement by NASA that funding for the ISS has been approved through 2024.
Former astronaut, and Orbital executive vice-president, Frank Culbertson said that the developing private space programs and public funding to the ISS should reaffirm commitments from researchers that they will be able to carry out long-term experiments aboard the ISS in the coming years.
"There is no reason to stop operations on the ISS until it is totally unusable, and I think it will be usable for a long time," Culbertson said.
"Extending it gives researchers the idea that, 'yes, I can do long-term research on the space station'."
The next planned launch to the ISS will be a February 5 cargo run on a Russian Soyuz. Following that, SpaceX will make its third commercial delivery on February 22. Orbital Sciences' next scheduled flight to the station is due to take place on May 1. ®
Sponsored: Minds Mastering Machines - Call for papers now open