Pervy TOILET CAMERA disguised as 'flash drive' sparks BOMB SCARE on Boeing 767
'Flashcam' causes emergency landing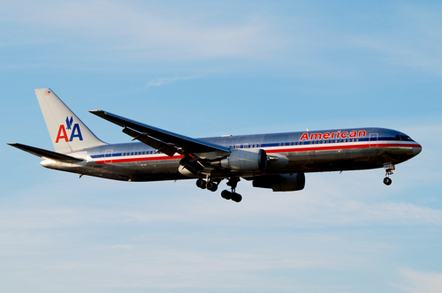 Someone taped a camera disguised as a USB thumb-drive to the wall of the toilet in a Boeing 767 aircraft on a flight to New York from San Francisco and caused an emergency landing in Kansas City when it was discovered.
According to KCTV, American Airlines cabin staff discovered or were alerted to the toilet's unwanted wall-mounted device in mid-flight on Sunday, and the plane landed at Kansas City International airport at 2pm local time.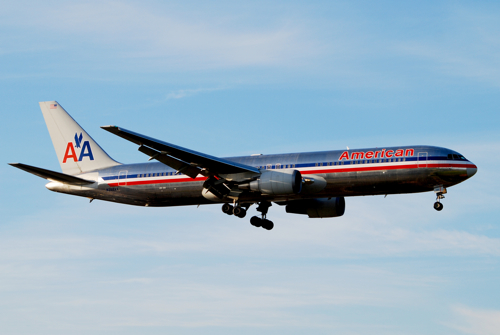 American Airlines Boeing 767 of sort in bomb scare.
The 227 passengers were told there was a bomb scare, which freaked some out, and everyone had to leave the plane, whereupon they were bussed to the airport's terminal C where they were fed, kept warm from the polar vortex-induced freeze, and interviewed by the Feds.
The plane was searched by bomb and arson investigators with a canine assistant (dog) but nothing untoward was found and the passengers reboarded around 6pm and the flight resumed. Darryl Forte, the Kansas City police chief, tweeted an all-clear message around 5.30pm:
Not an explosive device. Plane en route to NY prior to diversion to KCI. Bomb and Arson along with explosive detection dog no longer @scene

— chiefforte (@ChiefForte) January 5, 2014
Either way the placing of the flashcam was perverse, but unless it was deliberate hoax, it looks the device's owner taped it to the toilet wall in the hope of snapping ... well, we won't go there. The authorities are trying to find out who planted it. There is no word about what, if any, pictures were found on it and the contents have probably been flushed ... (sorry - Ed). ®
Sponsored: Minds Mastering Machines - Call for papers now open