Bitcoin blasts past $1,000 AGAIN after Zynga accepts cryptocurrency
Spend 1BTC, buy yourself millions of virtual farm acres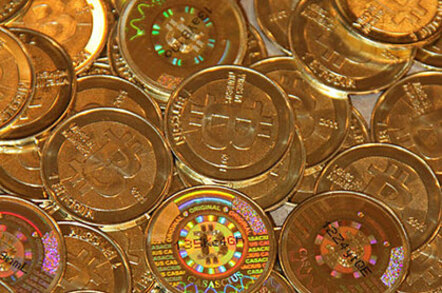 How better to pay for virtual real estate than with virtual money?
The price of Bitcoins has risen beyond the thousand-dollar mark again after games-maker Zynga announced it would trial the e-currency for in-game purchases.
At the time of writing, a Bitcoin was worth $1,062.30 on the Mt.Gox online exchange, one of the major markets where the software-based, government-free money is traded for authority-backed currencies like dollars and euros.
The surge comes after Zynga told folks on the /r/bitcoin community on Reddit over the weekend that it was starting a trial with BitPay, a Bitcoin service provider, to accept the currency for purchases in games like Farmville 2, Hidden Chronicles and CityVille.
The test is limited to seven of the firm's games to start with, but the company said it wanted to get feedback from its users on the trial.
Bitcoins last cleared the $1,000 hurdle at the end of November last year, reaching a record high of $1,237.95 on Mt.Gox at the end of the day on 4 December. But the digital currency then plummeted to as low as $640 after China banned its banks from trading in Bitcoin after warning that it could be used to fund terrorism.
The crypto-currency is beloved of idealists, hipsters and libertarians because it isn't backed by governments and central banks, but is created by "mining", where programmers use computer processing power to solve maths riddles.
But critics of Bitcoin say that its authority-shy status allows it to be used for money laundering and other illicit transactions - and they also claim the market for the currency is a volatile bubble-fest whose only value comes from speculative trading. ®
Sponsored: Minds Mastering Machines - Call for papers now open