Haswell micro: Intel's Next Unit of Computing desktop PC
It's a NUC-ing beauty.....
Party at the back...
That's on the exposed half of the 110 x 110mm motherboard. Round the other side sits the surface-mounted two-core, four-thread i5-4250U processor with its on-die Intel HD Graphics 5000 GPU. The CPU runs at 1.3GHz but can auto-overclock to 2.6GHz if thermals permit. Windows reported a maximum speed of 1.9GHz, though PCMark 7 pushed it over 2.10GHz a number of times during its run and peaked at 2.45GHz.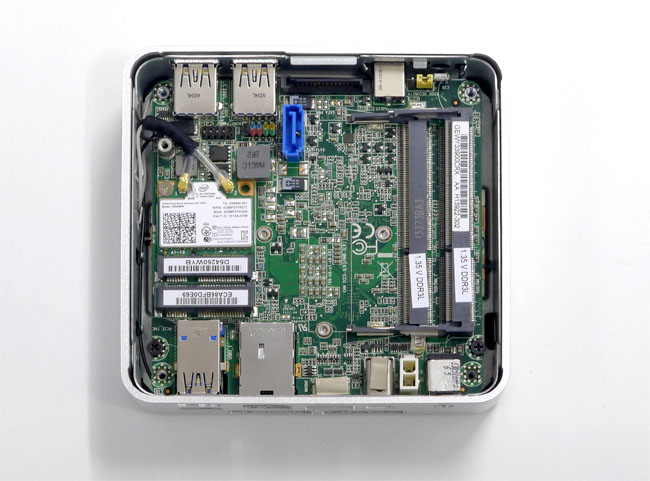 Inside: note the SATA jack and the "bunk bed" mini PCIe slots, here with a Wi-Fi card installed but not yet an SSD
Intel slipped me a 180GB mSATA SSD and 802.11ac Wi-Fi card with which to test the new NUC, but it doesn't come with these devices as standard. Kingston Technologies kindly lent me an 8GB stick of its ValueRAM 1.35V DDR3L.
Last year's NUC got a PCMark 7 score of 3960. Its successor scored 4676, an 18 per cent increase despite a 27.8 per cent decrease in base clock speed, though of course different storage and memory products make the values not directly comparable - or with those from other NUCs, for the same reason.
Last year's NUC is now running the XBMC-based OpenElec OS - very capably, I might add - so I couldn't do a head-to-head graphics performance test, but running 3DMark 8 shows the new NUC's HD 5000 GPU delivers a decent performance for an IGP provided you don't yank up the quality settings. Full HD playback is no problem.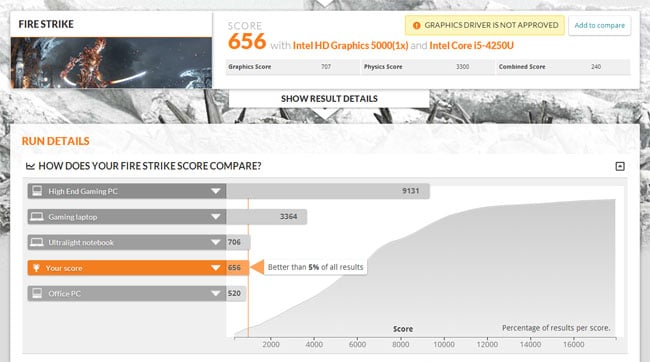 Larger bars are better (Click for a larger image)
Intel's SSD came with Windows 8 pre-loaded, but clearly you're free to install your own choice on your own, empty drive. I slipped in a Ubuntu live USB stick and found that it worked without bother. With no handy remote control, I couldn't try the IR receiver, though.
I'll be installing Mint on the NUC shortly. I'll report any issues back here in due course.
NUC remains a pricey option. The NUC kit alone with set you back just under £300 and you'll have to budget for memory and an mSATA SSD at the very least, more if you require Wi-Fi and don't want to use Ethernet. A 240GB Crucial M500 mSATA drive will cost you around £120, or £245 for a 480GB one. You're looking at around £120 for a pair of 8GB DDR3L-1600 SO-Dimms, plus perhaps £30 if you don't happen to have a keyboard and a mouse going spare.
It's not a unique product: Apple's Mac Mini comes fully complemented with 4GB of RAM, Wi-Fi, Bluetooth and a 500GB HDD for £499, but it's not based on Haswell chippery, so quite apart from the micro-architectural disadvantage of the previous Intel platform, you get a lesser on-board GPU. It's also not as compact.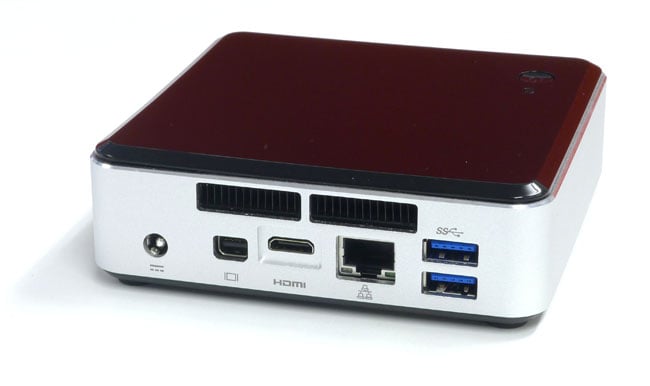 Not the cheapest PC, but one of the smallest
Gigabyte's Brix is a NUC-alike that is based on Haswell. Take the Core i5 4200U-based GB-BXi5-4200: it's slightly more expensive (£310) for the barebones model. Unlike the NUC it comes with single-band 802.11n Wi-Fi bundled, but a lesser GPU, the Intel HD 4400. That said, the Brix range is more extensive, running from a £170 Celeron-based unit up to a £500 version with a Core i7, so there's more scope to match budget to required functionality.
Of course, if you don't care about form-factor, you can pick up a cheap laptop for under £400 these days. But that form-factor is the whole point of the NUC.
The Reg Verdict
Intel has revised its micro-desktop to deal with all of the criticisms levelled at the last version: more complete connectivity, better media centre friendliness and, of course, the lean Haswell processor. It really is now the ideal media centre micro. And it makes a darn fine little office desktop too. ®
Sponsored: Minds Mastering Machines - Call for papers now open

Haswell micro: Intel's Next Unit of Computing desktop PC
Barebones Haswell Core i5 PC in a very compact, 11 x 11 x 4cm casing with USB 3.0, HDMI, DisplayPort and Gigabit Ethernet on-board IO.