Glassholes, snapt**ts, #blabbergasms, selfies and PRISM: The Reg's review of 2013
12 months in 26 characters
Value for money
S is Snapt**t: The 23-year-old co-founder and CEO of sext-friendly Snapchat, Evan Spiegel, turned down a $3bn offer from Facebook for his company. In June, Snapchat had been valued at $800m, meaning the Facebook offer was three times the startup's value. Not a bad for a company that makes no money and whose only product is YOU. Spiegel turned down Facebook because apparently he's betting he can get even more users in 2014 and will, therefore, get a better price next year.
We don't know how many users Snapchat has because Spiegel hasn't divulged numbers, but he has claimed there are 350 million photos shared currently, up from 200 million in June. Note this is photos shared, not numbers of users. Spiegel played for high stakes. Startups' best valuations come as they are adding users and their user base is growing. This is clearly why Spiegel turned down Facebook. However, at some point, those dishing out the valuations want to know how it is you actually plan to make money. It's at this point valuations become material things and prices go down, as they are attached to tangible milestones like revenue generation. Let's hope for the sake of Spiegel's pride he's got a solid business plan in place beyond Facebook coming back for a second go in 2014.
T is for Turnaround Men: Acer and Intel picked insiders for CEOs to take their companies by the scruff of their necks – president Jim Wong and COO Brian Krzanich. BlackBerry went for fresh blood with John Chen. Microsoft can't decide. Ford CEO Alan Mulally and soon-to-be-Microsoft-exec Stephen Elop, Skype chief Tony Bates and business unit manager Satya Nadella are all supposedly in the running, with "sources" and some Wall St stock analysts insisting Mulally really is the one Microsoft needs and that it really will get (really, really). The Reg drew up its own list of potential candidates, here. We didn't have Mulally, but Elop and Nadella made the cut.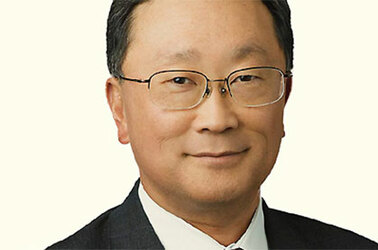 Ex-Sybase man Chen's time has come again, with Blackberry
Mulally and Chen have form: the latter an aircraft industry exec who turned loss-making Ford into an all-American comeback story while Chen tidied Sybase into a nice little mobile middleware proposition for SAP. Acer's Wong has already been given his marching orders - a restructuring and "transformation" plan. It's unclear what on Earth Intel's Krzanich will do that's different to Otellini, especially given he's just killed Intel's TV service. It's also unclear what Bates, Elop or Nadella could bring to the Microsoft Titanic, other then more deckchairs.
U is for U-turn: Microsoft released Windows 8.1, re-introducing the desktop and the Start button. Microsoft had slipped the word about what was coming to the FT in May, saying "key aspects" of Windows 8 – then just seven months old – would be changed in response to customer feedback.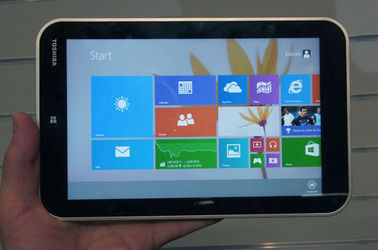 What at principled and non-stubborn U-turn looks like
"We're are being principled, not stubborn," marketing megaphone manager Tami Reller said.
Metro was supposed to be Microsoft's all-or-nothing leap into touch Windows users couldn't find their apps and were rudderless in the new interface. But Windows 8.1 came in the wake of one of the worst periods of sales in PCs on record, with some blaming Microsoft and Windows 8.0 for making a bad situation worse.
V is for Vomit: Sick of Apple? So were fanbois, but for different reasons. iDevice fans took to the forums in September to say they were suffering sudden bouts of nausea and headaches when using iOS 7.
The culprit? A n excess of zoom animations combined with a parallax effect to create the sense of 3D layers. "I hope Apple creates a way to disable this in a future update. I just sent them feedback, you should do the same," wrote one user. "I can't believe someone when testing iOS 7 didn't say, 'Hey, this animation makes me nauseous'. I find that incredible." Incredible, but the solution already lay at the fingertips of those in trouble, if only they could pry their finger tips from the edges of their toilet seats: you could turn off parallax by fiddling with Reduce Motion/toggle switch accessibility settings. Zooming animations were another thing.
W is for Writedown: Microsoft wrote off nearly $1bn in stock on unsold versions of its ARM-based Windows tablet, Surface RT, in the fourth quarter. Surface RT was a big deal for Microsoft: not just one of its first tablets from Redmond but the first version of Windows for ARM – Windows made its name on Intel. Smaller and lighter than the Intel-based Surface Pro, the Surface RT was a nice idea but lacked any practical application because there were no apps.
Microsoft sold just 900,000 Surfaces in the first quarter of the year, down to 200,000 in Q2. How bad was that? Apple moved 19.5 million and 14.6 million iPads. In market-share terms, Microsoft had less than two per cent versus 60 per cent plus for Android. This was Microsoft's second act of financial vandalism in just a year, having the year before written off aQuantive, which it had bought for $6.3bn in 2010. Surface RT might have cost less, but it hurt a whole lot more: investors dumped Microsoft stock on the RT writedown, slashing $34bn off the value, as shareholders lobbed a class-action lawsuit at Ballmer and other top executives for allegedly hiding the scale of losses. But the biggest casualty was Microsoft's CEO Steve Ballmer (see D is for Defenestration).
Sponsored: Learn how to transform your data into a strategic asset for your business by using the cloud to accelerate innovation with NetApp