Glassholes, snapt**ts, #blabbergasms, selfies and PRISM: The Reg's review of 2013
12 months in 26 characters
Huawei? Well, we equip 45 of world's top 50 telcos...
E is for Enigma: A year of will-it-won't-it-quit-the-US-telecoms-market climaxed in December when Huawei CEO Ren Zhengfei said that he was pulling out of the US. "If Huawei gets in the middle of US-China relations... it's not worth it," he reportedly told French news site Les Echos. Huawei has been the target of reports and the cause for concern among many western governments over possible connections to cyber espionage. The issue is Huawei's close relationship with the Chinese government and military - illustrated by the fact that Zengfei is a former Chinese army officer.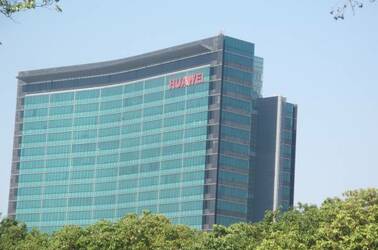 Did Huawei finally reach its breaking point with the US?
The US has always struggled with foreign-owned companies owning chunks of its critical national infrastructure – like ports, airlines and banks – so it's none too comfortable that Huawei equipment is installed at 45 of the world's largest 50 telcos. Apparently that pressure became too much for Zhengfei in 2013. Or did it? Immediately after the interview, Huawei was telling press it "remains committed" to the $1bn of sales in the US.
F for Floater: Was it a water-cooled data centre? Home of the last remaining dinosaur? Or a wild party boat? Just what was the 250-foot-long, four-storey high vessel made of shipping containers that appeared in San Francisco Bay during October? Speculation was furious on both conspiracy blogs and in the mainstream news.
Not helping was the fact engineers and welders working on the vessel, even the US Coast Guard patrolling the Bay's waters, had all been forced to sign non-disclosure agreements by those behind the project.
The truth, as it turned out, was actually rather boring: a set of showrooms to showcase Google technology and that are designed to be portable. It was all the work of Google co-founder and Glasses chief (See G is for Glasshole) Sergey Brin and his Google X team. The structure ran to 13,726ft2 (1 275m2) in size, featured huge windows, Wi-Fi antenna, aircon, sewerage pipes and even a set of "impressive" staircases and balconies.
A second barge was discovered in Maine but by December the project had hit the rocks with Bay conservation officials who'd met Google telling the press the project is "on hiatus" and probably won't be finished until well into 2014 – long after it was expected. The US Coast Guard was also understood to have been concerned about the vessel's suitably for onboarding landlubbers and Glassholes (see G is for Glasshole).
G is for Glasshole: "A cop just stopped me and gave me a ticket for wearing Google Glass while driving!" incredulous Google eyewear fan Cecilia Abadie wrote on – what else - her Google+ page. "The exact line says: Driving with Monitor visible to Driver (Google Glass). Is #GoogleGlass ilegal [sic] while driving or is this cop wrong???" Abadie, from Temecula, had been stopped for doing 80mph (128kmph) in a 65mph (104kmph) zone in San Diego, California, in October.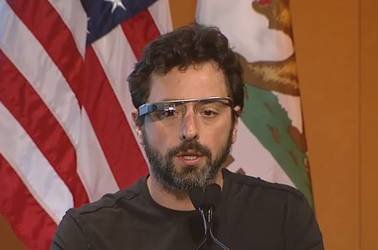 Don't do it, Sergei, don't wear them and drive
Abadie pleaded not guilty at her hearing December, with her defence team arguing the Google gear hadn't even been turned on at the time. We'd argue that wearing them under these circumstances would seem a rather pointless and pretentious move, but who are we to judge?
H is for "H": Ian H Watkins, the former member of big-in-the-'90s group Steps announced he was retiring from Twitter after a mob descended and began hurling vile abuse at him in the mistaken belief he was singer Ian Watkins of the Lostprophets – who was sentenced to 35 years over child sex offences including the attempted rape of a baby. The Lostprophets' man had been branded a "determined and committed paedophile" by prosecuting QC during the case. But to the righteous web there couldn't possibly be more than one Ian Watkins on the internet at one time.
The Steps man is now said to be "furious" with search-giant Google because his photo continues to appear next to stories of the Lostprophets' singer in searches - an all-too-familiar outcome caused by the way Google's news and search algorithms function independently of human input. Google, usually above such complaints, promised that it's looking into the issue.
I is for Insider: "Are you a Microsoft Trojan?" a heckler asked Stephen Elop following his Mobile World Congress (MWC) keynote, not long after he'd ascended to become Nokia CEO. How we, and he, laughed. (Well, he didn't laugh but we did. After all, we were thinking it.) Hired to re-tool Nokia and reverse its tumbling smartphone market share in the face of Apple's iPhone onslaught and fresh from Microsoft, Elop's "big answer" in 2011 was to adopt Microsoft's then-new smartphone operating system – Windows Phone – for all Nokia handsets.
Since then Nokia's revenue has fallen 40 per cent, its share of the smartphone market has dropped to around two per cent, Nokia's stock price has fallen by 60 per cent in value and Elop's recovery plan has been pushed back and altered.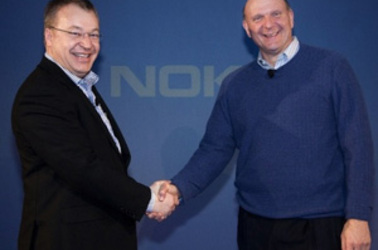 No you shouldn't have, really. Nokia? How sweet...
During 2013, Elop's "big answer" was to actually sell Nokia - to Microsoft, in a $7.2bn deal that has now been approved by Nokia's shareholders. Microsoft gets a mobile phone making biz while Elop is now in the running to become CEO of the company that once employed him (see D is for Defenestration and T for Turnaround men). Yup. How we laughed.
J is for Judgment Day: The servers running more than half of the world's internet searches and ads evolved this year, and those running them don't know how – or why.
Google told the Machine Learning Conference in San Francisco last month that it has been using machine learning on some of its servers, stringing together large clusters to automatically classify data, such as pictures. However, its systems have been picking out minor details in images and differentiating between pictures. The kicker is that Google's engineers can't explain how the servers have learned to spot the differences (the pictures in question were shots of bog-standard shredders.)
Is this the beginning of the rise of the machines? "We had to rely on data to engineer the features for us, rather than engineer the features ourselves," Google software engineer Quoc V. Le told the conference.
Sponsored: Minds Mastering Machines - Call for papers now open