Just what they've always wanted! ISS 'naut duo unwrap new space fridge
Cooling system's replacement pump fitted to orbiting station in second spacewalk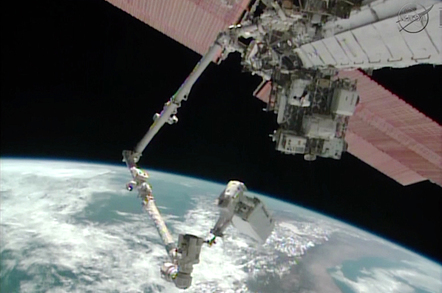 Astronauts have completed a SEVEN-HOUR spacewalk to fit what looks a giant fridge, but we're assured is a vital cooling system, to the International Space Station.
The work concludes a two-stage operation to fix the platform's life support: its cooling equipment started acting up this month, prompting NASA to order a series of repairs.
On Saturday, crew members Rick Mastracchio and Mike Hopkins carried out a 5.5-hour spacewalk to remove an ammonia pump that had a faulty valve.
Then today, on Christmas Eve, the pair stepped back into the obsidian void for seven hours and 30 minutes to hook up a large replacement pump module. That device is used in the station's external refrigeration loops, which circulate ammonia around the outside the platform to regulate temperatures onboard.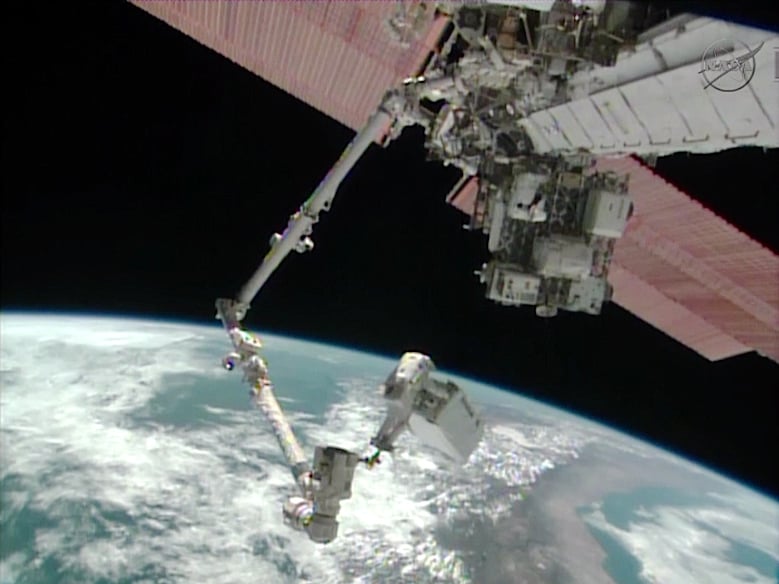 Oh the weather outside is frightful, but the view is so delightful ... Mike Hopkins approaches the ISS with the new cooling block on the end of a robotic arm (Credit: All pics from NASA TV)
"After experiencing some difficulty disconnecting a fluid line, the spacewalkers reported seeing ammonia flakes escaping a valve. As a precaution, mission controllers asked the spacewalkers to inspect their spacesuits for possible ammonia contamination," NASA said in a statement on Tuesday.
"Once they were back in the Quest airlock the duo conducted more ammonia decontamination procedures on their spacesuits. All four fluid lines were successfully reconnected to the newly installed pump module restoring ammonia flow.
"Afterward, Hopkins and Mastracchio completed electrical connections to the pump module. Power was successfully restored to the ammonia pump module."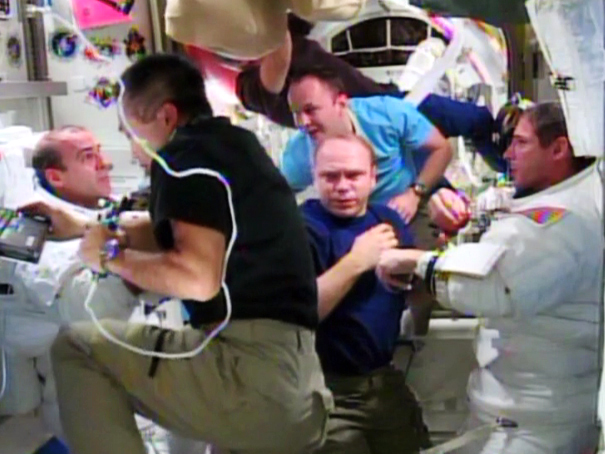 And since we've no place to go, let it blow! Let it blow! Let it blow! ... With the ammonia pump installed, Rick Mastracchio, left, and Hopkins are helped out of their spacesuits with the job done
NASA experts back on Earth are now testing the replacement pump before ramping it up to full functionality.
At the end of Saturday's spacewalk, Mastracchio's spacesuit leaked water into its cooling coil while he was in an airlock, although we're told this is unrelated to the terrifying glitch in July that caused ISS 'naut Luca Parmitano's helmet to fill with liquid while outside in space.
This is also not the first time 'nauts have had to fix a broken coolant system on the ISS: the platform needed repairing in May following an ammonia coolant leak. ®
Sponsored: Minds Mastering Machines - Call for papers now open