California OLDSTER in WILD golf course SKATEBOARDING spree
Still world's most boring sport...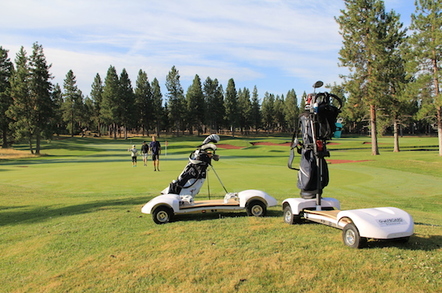 A Californian pensioner has invented a bizarre new golf buggy inspired by a skateboard, which he claims will open up this fusty sport to a younger audience.
The GolfBoard is a motorised device which allows putters to pootle around the course at a speed of up to 12 miles per hour (19kmph).
It was originally launched on Kickstarter, where it raised 105 per cent of its original goal in just two weeks.
The GolfBoard was dreamt up by Don Wildman, an 80-year-old fitness club owner from Malibu.
"It will do for golfing what snowboarding did for skiing," he said.
"It's an old man's sport. I know if I had kids, they would really like to come out and play golf if they got to ride around on an electric skateboard."
Hodge claimed he has already received 2,000 orders for GolfBoards, which cost $3,500 each. He will be mass-producing them in New Jersey, with the only foreign part a battery cell imported from South Korea.
The target market is golfers aged between 15 and 40, but Hodge has noticed a "surprising interest from golfers much older than that".
"The standup (handle) bar that we've added makes it easy for anybody to ride," he said. That's really opened up the demographic.
"So you don't need to have a really strong athletic background to be able to ride it, although it's certainly more challenging when you take the bar off." ®
Sponsored: Minds Mastering Machines - Call for papers now open