We love a flashy model who's a keen reader – Toshiba
Second read-intensive SSD for biz in two weeks should hit market sweet spot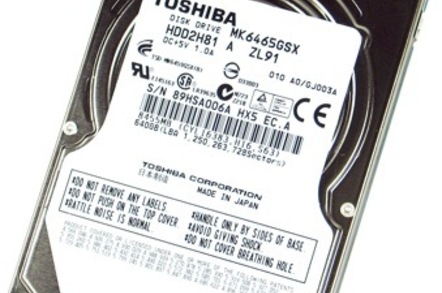 Toshiba has a new mid-range SSD built for medium spec read-intensive work that widens its 19nm NAND product range. The HK3R comes hot on the heels of the PX03SN and Tosh says it is optimised for read-intensive applications such as read-caching, error logging, boot, and low-duty storage applications requiring power-loss-protection and end-to-end data protection features.
With its 120GB-480GB capacity point range, it slots in Tosh's 19nm product range above the PX02AN (55GB - 480GB) entry-level server SSD and below the new PX03SN (200GB-1,600GB) read-intensive enterprise SSD. A quick glance at some performance specs shows the main differences between the three products:

Toshiba 19nm SSDs
The PX02SN is the entry-level drive with the lowest random read IOPS at 36,000. Our new HK3R delivers 75,000 of these IOPS while the PX03SN roars away with 130,000. It also happens to hold more than three times more data at is maximum 1.TB capacity point. The random write IOPS are similarly stepped at 1,000, 10,000 and 26,000 respectively.
Toshiba says the HK3R has a new error correction scheme called Quadruple Swing-by code . It haas a 5-year limited warranty and is rated at one full drive write/day.
Toshiba and OCZ
This drive is possibly one of the last that Toshiba will produce on its own, as it were, since it is buying the assets of failed OCZ. These include the Barefoot controller technology and several branded SSD lines using non-Toshiba NAND – Agilty, Vertex, Octane, Petrol, Lightfoot, Deneva, Chron, Intrepid and more. Toshiba product line managers will have a wonderful job trying to assimilate them all and deciding which ones to keep and which to junk.
Obviously, over time, the retained products will switch to Toshiba NAND and Toshiba will also assimilate OCZ's controller tech. There will also be a pretty branding issue, with Toshiba favouring boring names, such as the HK3R, while OCZ went for consumer naming appeal. We may find OCZ products become Toshiba's consumer branded bunch of SSDs and retaining existing brand names or naming styles.
Toshiba partner SanDisk may possibly have a role here, taking on some of the OCZ brands; this is pure Vulture Central speculation – we haven't heard anything about this.
And Violin?
The CEO change at Violin may well impact Toshiba as well, seeing as how Violin is building a PCIe flash card product for Toshiba and also how Violin has NAND chip supply purchase agreements with Toshiba. Someone in Toshiba's American subsidiary must have thought for a moment or two about simply buying Violin and pole-vaulting Toshiba up into the all-flash array product sphere.
It's capitalised at $277m and such a purchase would catapult Toshiba up above Seagate in the disk-drive-maker-becomes-flash-storage-supplier stakes and possibly/probably take it above WD's HGST flash product-building subsidiary as well. HGST has amassed considerable flash product assets; its own Intel-based SSDs, sTec enterprise SSDs, Virident PCI flash cards and Velobit caching software. How is Toshiba aiming to compete with WD/HGST in the flash space?
It may decide selling PCIe flash cards is fine but selling a line of storage arrays is a step too far beyond its core competencies. Perhaps there's something that could be done with SanDisk here? The flash world is full of opportunity at the moment. ®
Sponsored: Minds Mastering Machines - Call for papers now open