Lifesize, driveable AIR-POWERED LEGO CAR hits the road
Crowdfunded craziness bricks it at up to 30 km/h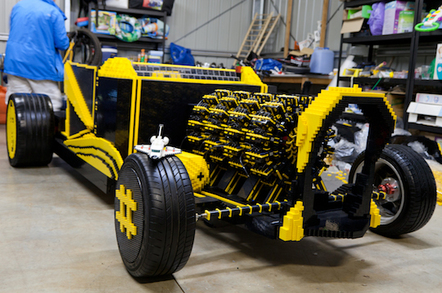 Vid An Australian entrepreneur and Romanian tinkerer have built an air-powered car out of LEGO.
Detailed at the modestly-named www.superawesomemicroproject.com, the car was built with funds contributed by 40 "patrons" who each stumped up an undisclosed amount to summon it into existence. Australian Steve Sammartino led the crowdfunding effort and Raul Oaida built the vehicle in his native Romania, before it was shipped to Australia for trials.
Just how the engine works hasn't been spelled out, but it's been described as comprising four rotary engines and 256 pistons. We're guessing a compressed air tank gets everything moving and some clever gearing turns the wheels.
Sammartino and Oaida say the car has a theoretical speed somewhere between 20km/h and of 30 km/h but has been driven rather more slowly to date to prevent a "LEGO explosion".
The effort looks to be a mixture of joyful tinkering and stunt. Oaida has been trying to get his skills noticed, sometimes by making unsolicited submissions to noted inventors and venture capitalists. Sammartino is involved in Australia's startup scene. Both now have a considerable amount of the attention they desired. ®
Sponsored: Minds Mastering Machines - Call for papers now open