HP multiplies Meg Whitman's salary by 1.5 MEELLION
Keep your hats on – this isn't as bad as it looks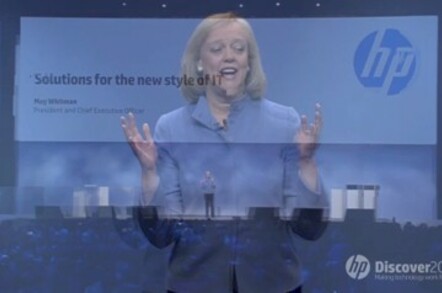 HP has multiplied chief executive officer Meg Whitman's salary by 1.5 million.
Revealed in a December 17th Form-8K filing to the US Securities and Exchange Commission, HP explains the rise as follows:
On December 11, 2013, the independent members of the Board of Directors of Hewlett-Packard Company ("HP") approved an increase in the base salary of Margaret C. Whitman, HP's President and Chief Executive Officer, from $1 per year to $1,500,000 per year to bring Ms. Whitman's salary to a competitive level among the salaries of the chief executive officers of HP's peer companies. This salary increase is effective as of November 1, 2013.
Whitman's previously been granted millions of HP shares, so it;s not as if she's only been getting a buck a year. Even with that in mind, the rise is probably justifiable because her efforts have led to HP's turnaround displaying a super-tanker-like combination of ungainliness and compelling momentum.
The Reg recently assessed Whitman's progress and concluded she's doing about as well as it is possible to do given HP's past mis-steps and the turbulence of the markets it serves. ®
Sponsored: Minds Mastering Machines - Call for papers now open