Cleversafe stirs up dsNet with guts+software overhaul
Objects delivered per second boosted in SSD addition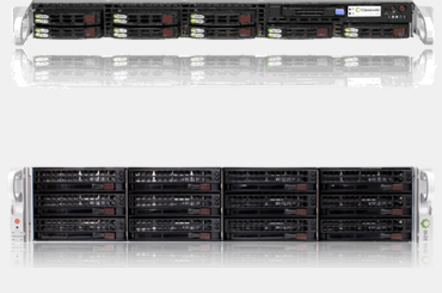 Dispersed storage bods Cleversafe have accelerated their object storage access with a mix of faster processors, solid state storage, and memory caching in a new software release.
This report.
Its dsNet technology has Accesser 2100 and 3100 nodes handling object access requests with Slicestor nodes providing the object storage, with objects stored as slices in a network of nodes. Management is via dsNet manager 2100 and 3100 nodes.
There were 1440 and 2210 Slicestor nodes using desktop and enterprise SATA disk drives respectively. Now we have 2440 and 4100 nodes added to them with the node quartet looking like this:
4U 1440 4-core 1.8GHz Xeon 192TB desktop SATA HDD
2U 2210 4-core 2.7GHz Xeon 36TB enterprise SATA HDD
4U 2440 6-core 2.0GHz Xeon 192TB cloud SATA HDD
1U 4100 8-core 2.0GHz Xeon 3.75TB SATA SSD
The 1440 and 2440 can have either 48 x 4TB or 3TB disk drives. The 2210 uses twelve 3TB disk drives. While the 1440 has 36TB of DDR3 SDRAM, the 2440 has 64GB of the stuff. Cleversafe says the relative performance of the 4100 is up to 10 times as many delivered objects per second (OPS) than the 1440.
The 2440 provides five times more throughput than the 1440 and delivers four times the 1440's OPS performance rating while using the same 48 x 4TB drive storage density - but then it has more memory and faster clockrate cores.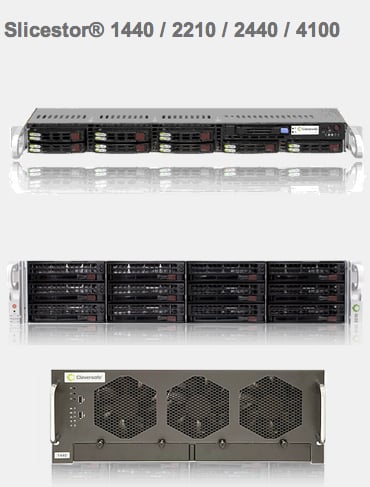 The 4100 is said to be best suited to delivering fast access to smaller objects. Cleversafe says that, with it, "a single dsNet now can deliver high OPS for smaller objects efficiently along with high throughput for larger objects."
To bump up the data access rate for the other Slicestors there is a Cache Vault feature in v3.1 of the ClevOS operating system. This enables an up to tenfold improvement in the OPS rating of the node hardware. Cleversafe claims it "enables customers to deploy higher OPS Cache Vaults alongside standard storage vaults in the same physical storage pool. This generates faster access to certain objects, such as thumbnail images associated with full-resolution pictures. Larger-size original source objects are stored in a standard vault elsewhere on the dsNet system."
The company reckons its hardware and software-boosted dsNet can now handle more applications than bulk archiving. A Cleversafe spokesperson said: "Think of file collaboration and content distribution applications that require companies to access, analyse and share data much more frequently, as well as securely and reliably archive and backup data."
Interestingly you can have Cleversafe dsNet software running on HP ProLiant SL4540 Gen8 Server hardware. An HP technical white paper states: "Deploying an HP ProLiant server with Cleversafe dsNet software provides the scalability, management efficiency, and lower cost of ownership which unstructured data and archival storage requires."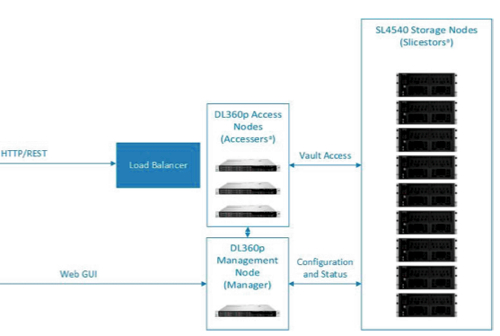 Cleversafe dsNet SW running on HP servers
HP says: "The Cleversafe dsNet solution is a simple to configure and manage object storage architecture. Cleversafe software reduces your overall storage footprint as compared to object storage solutions that use data replication, while still maintaining the durability and availability your enterprise data assets require."
HP has its own object storage technology with the StoreAll product line.
Pick up a Cleversafe datasheet here (pdf). Contact sales@cleversafe.com if you want to know more. ®
Sponsored: Minds Mastering Machines - Call for papers now open