Want to know about Seagate's tech specs? Ask a BEANCOUNTER
Sneak peek into 2014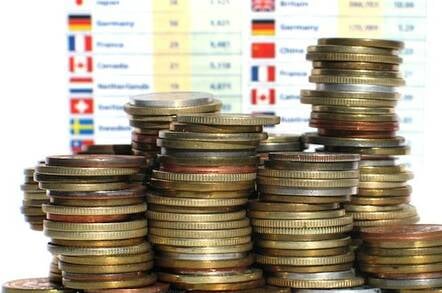 Comment You have to smile when the financial guy rather than the techie is the one giving the talk on what a vendor's product is going to look like next year. But this is not uncommon in the disk drive and SSD industry, especially among its Big Three: Seagate, Toshiba and WD.
Their respective chief financial officers want investors to have faith in their companies and have realised that the way to convey their message is through the analyst community.
With Seagate and WD, much data about their financial performance is based on product shipments, which means the analysts get to hear about new products that are planned and a vendor's view of what's happening in the market. When one of them writes up a report based on a session with Seagate CFO Pat O'Malley, then it is worth reading, which brings us to Aaron Rakers, the MD of Stifel Nicolaus, who did just that.
His report is headlined "STX: Positive Meetings w/ CFO; Focus on LT GM% Upside Drivers" which is guaranteed to put readers into a right state of boredom, but there's gold in them thar hills if we press on, and here it is:
HDD capacity shipped is estimated to grow from about 450EBs today to 6ZBs by 2020, a roughly 40 per cent CAGR vs. an areal density CAGR of 20 per cent.
Flash supply is estimated to expand from 45EBs to 450EBs by 2020 (includes 3D V-NAND ramp). Gartner estimates total Flash capacity at 175EBs in 2017 in which about 72EBs is estimated to ship into SSDs
Rakers notes that Seagate has "noted expectations that NAND Flash production capacity would increase from ~45 exabytes currently to ~450 exabytes by 2020, which includes the anticipated ramp of 3D V-NAND." His estimate is "that flash can satisfy ~10% of the total HDD capacity shipped."
That's the industry generally... But let's have a look at Seagate specifics, with disk first.
According to Rakers, Seagate looks to enter 2014 with a much improved competitive HDD portfolio. We are looking at:
A re-entry into the 7,200 RPM 2.5-inch HDD market in early 2014 after discontinuing these drives in favour of 5,400 RPM hybrid drives in early 2013.
Seagate is more favourably positioned in the retail market with 2TB solutions with one less platter vs. competitors.
Seagate has seen a improved cloud positioning/share via the launch of its 4TB (4K vs. traditional 512 byte) 3.5in SATA drives in late-2013.
Seagate's average capacity/drive is higher than both Toshiba and Western Digital: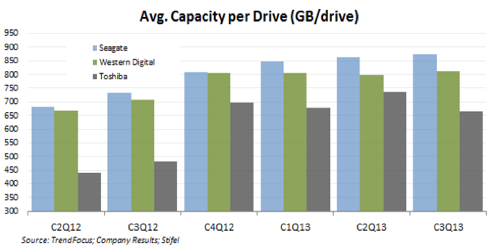 Seagate builds higher-capacity drives.
Rakers says he "will continue to monitor Seagate's competitive 6-platter SMR (shingled magnetic recording) -based 6TB solution (expected in 2014) versus WD's (HGST's actually) 6TB seven-platter helium-filled solutions. He notes "Toshiba's challenge in competing in the multi-platter high-capacity HDD market given its 100 per cent dependence on external head and finished media. For example, a six-platter high-capacity SATA HDD could carry as much as a $30+ cost disadvantage for Toshiba versus Seagate and/or Western Digital."
For Seagate, "SMR technology is expected to be leveraged in Seagate's six-platter 6TB cloud-focused SATA drives looking into 2014," according to Rakers. He continues: "The transition to Heat-Assisted Magnetic Recording (HAMR) technology will be the industry's next step beyond SMR – a 2016-2017 story … The transition to HAMR is expected to return the HDD industry to a 40 per cent per annum areal density growth rate."
Flash facts
What about flash? Here WD is making acquisitive progress, buying sTec (Enterprise SSDS), Velobit (flash caching) and Virident (PCIe flash). Seagate has its line of Pulsar SSDs and shows no sign of buying a flash technology company. Rakers' view is that Seagate "is clearly behind Western Digital in terms of its enterprise SSD strategy," and adds "HGST's, SSDs are utilised in EMC's new XtremIO all-Flash arrays."
Seagate's focus is on the enterprise SAS SSD marketplace with the company's 1st generation currently in qualification cycles at OEMs.
Second generation enterprise SAS SSDs are expected in 2014.
They'll be followed by "third generation solutions leveraging Samsung's 3D V- NAND (note: we believe Seagate could pull back from its prior statements of introducing a 3D-based enterprise SSD in 1H2014)."
Seagate's view is that the PCIe SSD market looks to become too volatile/competitive and so the company is focusing most of its efforts on enterprise SAS SSDs.
He points out that Seagate is focused on leveraging its Samsung relationship for both NAND flash supply and the development of the company's Flash Memory Engine (FME), saying: "The company highlights its partnership with Samsung as both providing a strategic supply of NAND Flash and the joint development of the integrated Flash Memory Engine (FME) within these enterprise SSDs."
Vulture Central has not come across the Flash Memory Engine term before and will be checking that out. Watch this space.
Now here is another nugget about disk drives for the cloud market:
We believe the more interesting long-term trend for the HDD industry will be the ability to offer systems into the cloud market. For example, we believe Seagate has been testing an 80-plus drive system within the cloud market. We believe a market opportunity in which the HDD becomes more than 50 per cent of the total costs of the system deployed increasingly represents an opportunity for Seagate and/or Western Digital – especially a market in which the traditional OEMs are not participating.
In other words Seagate could offer dense HDD JBODS, with maybe software too, into the cloud market – as it seems EMC, NetApp and the rest of the usual suspects will not be participating.
Rakers had more on Seagate and the cloud: "Google, which has been a consistent top-10 customer for Seagate. Others (Amazon, Facebook, Microsoft, Apple, etc.) are utilising traditional system vendors in terms of the purchase of HDDs – though each of these customers [is} likely to move more toward a direct sourcing model over the longer-term."
He reports: "Seagate continues to estimate that the cloud could represent over 60 per cent of the HDD industry capacity shipped by 2020; Microsoft alone estimated to have as many as 80 million drives deployed in its Azure cloud over the next 3 to 5 years (side note: Microsoft currently has +250,000 Azure customers, growing at an average of +1,000 new customers daily)."
What does this imply for storage array vendors? A hard rain's a-gonna fall is what it implies. Here's Rakers on the topic:
As Seagate and Western Digital continue to find more cloud/internet datacenter build-outs looking to source HDD directly, coupled with adoption of OpenStack/OpenCompute/etc. solutions, we believe both companies will invest into moving up the value stack. While we would not expect either vendor to evolve into complete storage array vendors, we believe both could look to address the need for HDD racks leveraging internal software capabilities (e.g., encryption, archiving, etc.). We believe Seagate's recently introduced (late-October) Kinetic Open Storage Platform efforts reflects the company's efforts to drive a deeper value-added position in the cloud marketplace.
He adds: "Seagate is offering its Kinetic solutions in 60-drive 4U enclosures with up to 240TB of raw capacity. Seagate is targeting its Kinetic solutions to become generally available in mid- 2014; we believe the company is actively working with cloud customers on these offerings. The company believes successful deployments of these solutions could result in less server spending for hyperscale datacenter environments."
We believe that storage array spending in cloud environments could be affected as well.
Rakers said: "Seagate is expecting some stabilisation in the client/PC market going forward and continued growth in the personal/retail drive market." ®
Sponsored: Minds Mastering Machines - Call for papers now open