Jupiter moon Europa spotted spraying WATER into SPAAACCCEE
Cracks in Jupiter consort's façade bare her secrets to ALL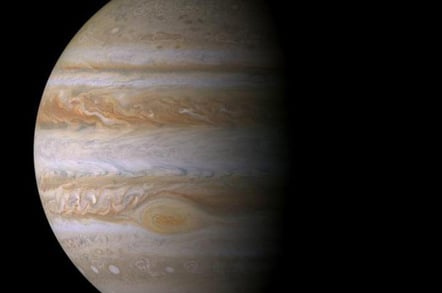 Boffins have spotted huge plumes of water vapour erupting from the frozen surface of Jupiter's moon Europa, raising the possibility that it could one day be inhabited by humans.
Using the Hubble Space Telescope, NASA and ESA scientists were able to spot a number of distinctive geysers near the moon's south pole, something no-one has ever seen on Europa.
It has long been suspected that Europa harbours a vast ocean beneath its icy crust.
"The discovery that water vapour is ejected near the south pole strengthens Europa's position as the top candidate for potential habitability," said lead author Lorenz Roth of the Southwest Research Institute in San Antonio, Texas.
"However, we do not know yet if these plumes are connected to subsurface liquid water or not."
Scientists have only seen water plumes out in space once before. In 2005, NASA's Cassini orbiter observed plumes of water vapour were seen billowing out of Saturn's moon Enceladus
This time around, boffins aimed Hubble's Space Telescope Imaging Spectrograph at Europa and saw a faint aurora at the pole, which is caused by Jupiter's powerful magnetic field.
This field speeds up particles to such high velocities that they can split water molecules into oxygen and hydrogen ions, which can be detected in the colour of the aurora.
"We pushed Hubble to its limits to see this very faint emission," added Joachim Saur of the University of Cologne, Germany, who also worked on the project. "Only after a particular camera on the Hubble Space Telescope had been repaired on the last servicing mission by the Space Shuttle did we gain the sensitivity to really search for these plumes."
It is thought that the water escaped through distinctive cracks in the surface of Europa, which are known as linea. However, it is unknown whether the water vapour is coming from deep in the planet or from ice which has been warmed by friction pressure closer to the surface.
The team think that the steam could be emitted as Jupiter's gravity pulls on the moon, causing ice sheets to move around in a tidal pattern.
Kurt Retherford, who also works at of the Southwest Research Institute, suggested that "the plume variability supports a key prediction that we should see this kind of tidal effect if there is a subsurface ocean on Europa".
Future missions are expected to work out whether the linea connect to vast oceans beneath the surface. ®
Sponsored: Minds Mastering Machines - Call for papers now open