Heart part more art than state-of-the-art: Shine wearable activity sensor
I'm a lumberjack and I'm OK. I sleep all night and I work all day (it says here)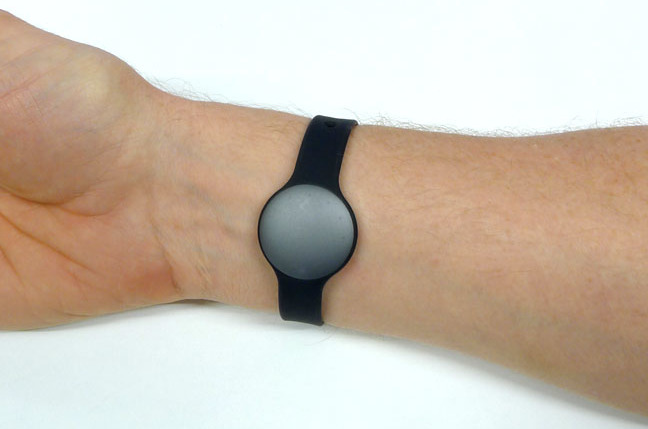 Review I'm not a fitness fan. I don't jog and I'm more likely to be seen at the swimming baths picking up my kids after lessons than doing lanes myself. But with the big 5-0 coming close, and working as I do in a trade that has me sitting on my bum all day, I find I have a keener interest in my personal well-being than I did when I was younger.
This is why the new breed of wearable devices appeals to me. I'm not interested in pages of carefully coloured data I can use to fine tune my fitness regime: I haven't got one, though I appreciate other folk do. I'd just like to be sure I'm sufficiently active to keep body ticking over smoothly. Many of these wearables are designed to do just that.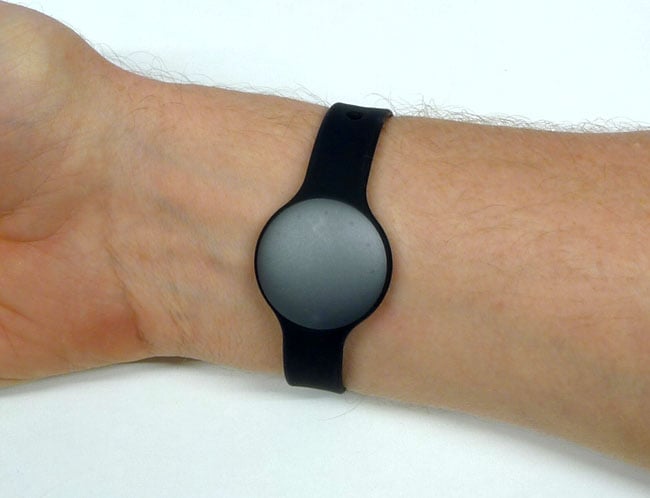 Wrist-y business: the Shine in situ
One such is the Shine, from Misfit Wearables, a US-Asian company backed by one-time Apple CEO John Sculley.
Unlike many a wearable device, the Shine isn't itself wearable. It's a metal disc about the diameter of a 2p piece, 9mm thick in the centre, falling to 4mm at the edges. It looks like a flying saucer designed by Sir Jony Ive, a similarity accentuated by the 12 LEDs arranged in a circle around its face, each barely visible until lit.
Twelve lights because the Shine doubles up as a watch. Tap it twice and sufficient lights illuminate to indicate your progress toward your day's activity goal. A moment later one light indicates 12, followed by another revealing the hour and a third the minute.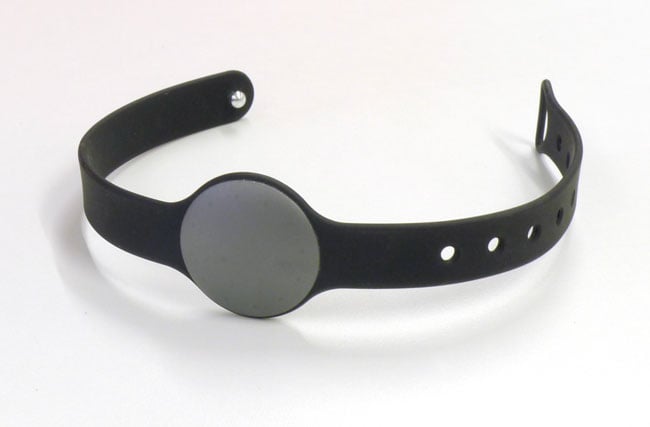 Rubber band: the Shine can be fitted into a bundled wrist-strap
Being a disc rather than, say, a strap like the Fitbit Flex means the Shine doesn't have to be worn at all. It tucks neatly into the watch pocket on your jeans, for instance, and Misfit supplies a rubbery plastic doobery with a loop on one end and a magnet on the other. The loop fits around the Shine and the rubber fits around a belt loop, bag strap or such, and then clasps the Shine with its powerful magnetic grip.
You have to shake the Shine rather hard indeed to dislodge it, but it is possible to do so I didn't want to trust while using the clip while out and about. More to the point, since the Shine also operates as a sleep monitor, you really want to keep it attached to your body, so I used the second bundled accessory, a wrist strap. This has a big loop in the middle, which fits into a notch in the Shine's waist.
This held the Shine in place securely at all times even - since the gadget is water-resistant to five atmospheres - while I was showering and, later, doing the washing up. It'll take swimming in its stride, says Misfit, and even shrug off inadvertent visits inside the washing machine, but it's probably best if you don't take it for regular dips in the sea apparently.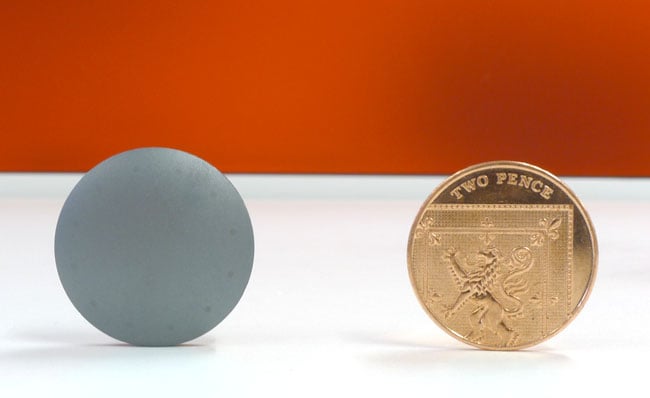 You can just see the 12 LEDs on the Shine's face
To get that level of water resistance, the Shine's battery and electronics need to be well sealed. Misfit bundles a tool to help prise off the back of the gadget, into which you drop the supplied lithium CR0232 coin battery. This is good, the company claims, for four months' use.
Clip it all back together - there's a handy marker to indicate the 12 o'clock position - and you're ready to pair the Shine to a phone or tablet running the inevitable app. It's available for iOS and Android. You'll need a phone that supports Bluetooth 4.0; you just pair up the Shine just as you would any other Bluetooth peripheral.
To conserve power, the app doesn't maintain a constant connection to the Shine. Instead, it syncs when the app is made to appear on the screen, though you can also trigger synchronisation manually from the widget, which you'll need to do after pairing the two devices.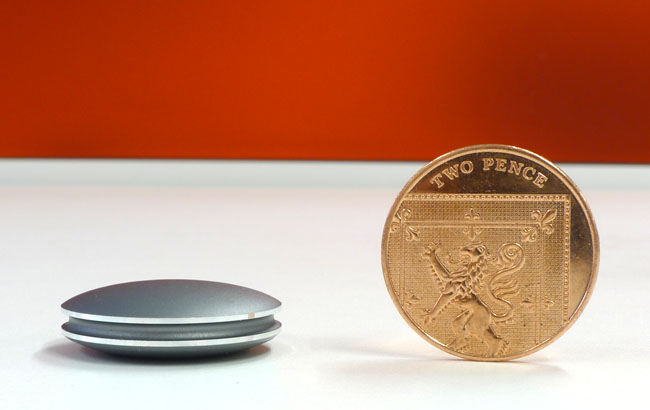 Not large at all
In essence, the Shine is a three-way accelerometer with a memory to store the values it records until they're synced to the host device. It's the app that makes sense of the data to provide a readout of your activity during the day and your sleep pattern at night. Syncing is two-way: the Shine also stores your chosen goal so it can give you a progress readout without delegating to the app.
Sponsored: Are DLP and DTP still an issue?