Speeding cops, fearsome drops and Death Star shops
Enough next-gen kit already – here's the best of the rest
Star Wars: Tiny Death Star
You know that line in Clerks, the one where the titular salesmen are discussing all the innocents – contractors, engineers, chefs, cleaners, you name it – who must have died aboard the Return of the Jedi Death Star? Well Tiny Death Star basically takes that notion and runs with it.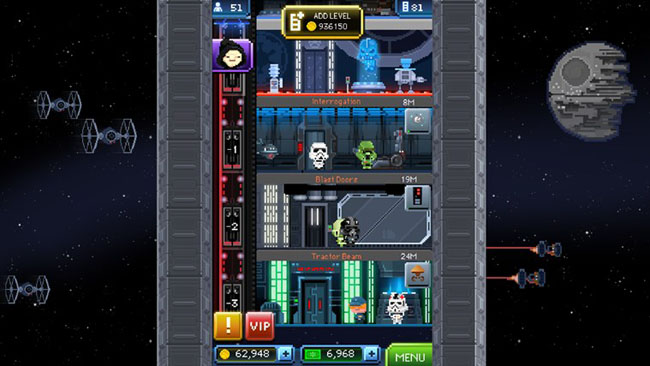 The idea is that, short of getting a proper job, the Emperor and Darth Vader have decided to make a new Death Star. Therefore they can attract said contractors whom they can tax, and so never need to work again – well, they are evil after all.
Such geeky humour is continued throughout Tiny Death Star. From the Holonet – a social media-style messaging service through which your 'Bitizens' can voice their thoughts – through to the names of the shops that you can create: the Scoop of Hoth ice cream parlour and Mon Cala aquarium to name but two.
What's more, TDS is the perfect companion for your daily commute. As all you really need do is address the pressing concerns of your shops, restaurants, gyms and evil Imperial levels and the game will gladly chug away in the background. The Emperor even announces how much your Death Star has earned when you next come back to it.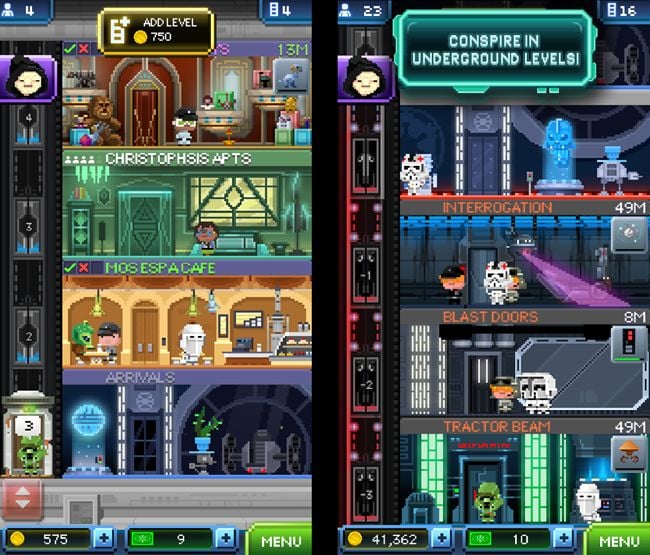 One slight step towards the direction of the Dark Side, however, is a move toward monetisation by developer Nimblebit – much more noticeable here than in their similar Tiny Tower. TDS uses the dual currencies of credits and imperial bux, and both are offered at a frustratingly slow rate.
Your in-game actions will eventually accrue both, and credits will generate even when you're not playing. But given that both are necessary to play the game at anything other than a snail's pace – and bux are particularly crucial when it comes to expanding certain areas of the game – it's a tad galling that the easiest way to obtain the currency is by spending pounds sterling.
Ultimately, TDS boils down to a grind that remains fun for as long as its novelty value holds. At the start of my commute, I still shuttle Bitizens up and down the elevator in a bid to keep Lord Vader happy. But at the same time never the game fails to get a look-in when I'm at home with the option of my consoles.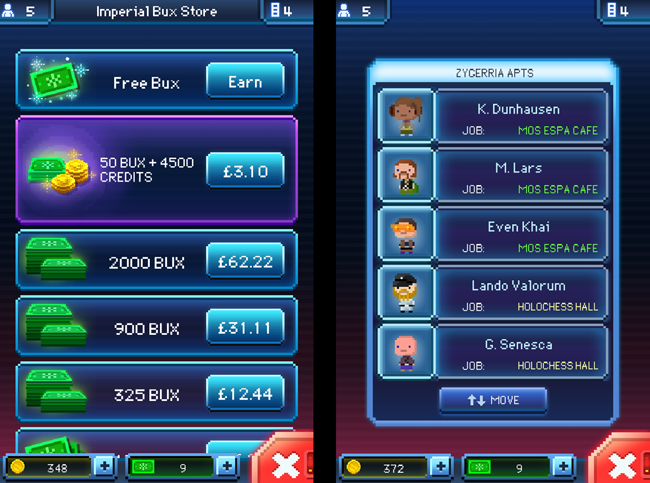 Still for the princely sum of absolutely nothing, and providing you don't succumb to the temptation to swap real pounds for virtual bux, Tiny Death Star is worth seeking out. Especially if you want to hear those iconic Star Wars tunes given a new jazz-style twist. ®

Sponsored: Minds Mastering Machines - Call for papers now open