Mars One's Red Planet foray is still on – but not until 2018
Lockheed Martin, Surrey Satellite signed on as technology partners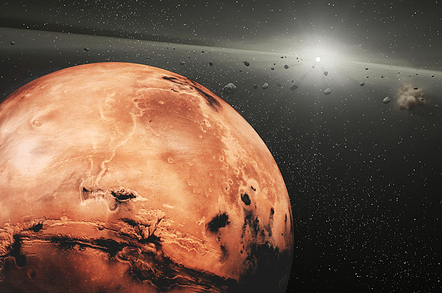 Mars One, the not-for-profit foundation dedicated to establishing a human colony on Mars, won't be able to launch its first mission to the Red Planet until later than originally planned.
In an announcement issued on Tuesday, the group said it now expects to send an unmanned mission to Mars in 2018, rather than in 2016 as it had previously stated.
"This 2018 mission will be a demonstration mission and will provide proof of concept for some of the technologies that are important for a permanent human settlement on Mars; the ultimate goal of the non-profit Mars One foundation," Tuesday's release explained.
Mars One added that it has entered into partnerships with Surrey Satellite Technology Limited (SSTL) and Lockheed Martin – which has previously participated in nearly every NASA Mars mission – to build the equipment necessary for the effort.
The first component will be a robotic lander, which will be built by Lockheed based on designs it used for NASA's 2007 Phoenix Mars mission. Among the lander's tasks will be the acquisition of soil samples and an experiment designed to extract water from the Martian soil. In addition, the lander will carry equipment specified by the winner of a university challenge that Mars One plans to launch in 2014.
The second component of the mission will be a high-bandwidth communications satellite designed and built by SSTL, which will be placed in synchronous orbit over Mars while the lander descends to the surface. Video cameras on the lander will record continuous live imagery of the mission and relay it to the satellite, which will then beam it back to Earth.
Mars One said that having selected its key partners, it opted to delay the launch for two years to give it time to build the spacecraft and its satellite and to work with students and universities on aspects of the mission.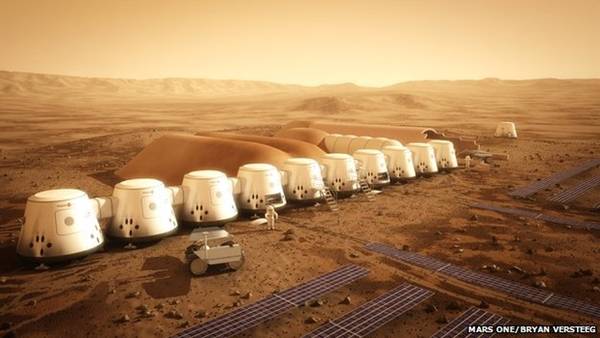 Don't kid yourself; it won't be easy on Mars, but at least you'll be a TV star (Source: Mars One
The foundation's long-term plan is to establish a permanent human settlement on Mars, with six groups of four people to be chosen from a pool of some 20,000 who have already applied for the chance to receive a one-way ticket off-world.
None of the group's efforts are to be funded by government sources. Rather, Mars One says that both the 2018 mission and the eventual colony mission will be supported by "sponsorships and exclusive partnerships," although no specific sponsors have been confirmed so far.
The eventual human colony will be given the reality TV treatment, with viewers on Earth tuning in to see the latest exploits of the Mars colonists – plus advertisements, naturally.
For the unmanned 2018 mission, Mars One says it's also launching an Indiegogo crowdfunding campaign to give individuals a chance to help fund it.
"Landing the first humans on Mars should be everyone's mission and not just the mission of one country or organization," Mars One cofounder Bas Lansdorp said in a statement. "Our 2018 mission will change the way people view space exploration as they will have the opportunity to participate. They will not only be spectators, but also participants. We think it is important to involve people from all over the world in what we're doing, and crowdfunding and crowdsourcing activities are important means to do that." ®
Sponsored: Minds Mastering Machines - Call for papers now open