Crown Representative: SME biz is huge... but I don't have exact figures
Look into my eyes, not around the eyes, look into my eyes...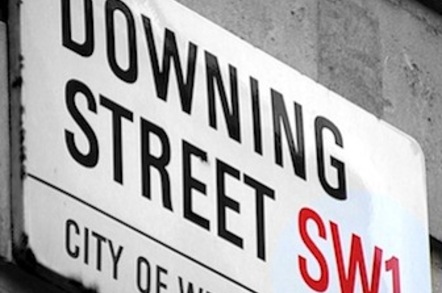 The Crown Representative for SMEs is talking big about working with small tech suppliers, but even he can't detail in a transparent way the exact financial benefits of doing so.
SME flag-waver Stephen Allott blogged that at the end of October, 20 months since launch, 56 per cent of the £63.46m transacted on CloudStore, a web catalogue of supplier services, had been via small biz firms.
"Government Digital Services and the Crown Commercial Services (formerly GPS) have shown what is possible if you take a new approach to building digital government," he trilled.
And no less than 68 per of central government IT spent through G-Cloud was with those tiny, teeny small biz suppliers, he added.
"This figure of 68 per cent is in stark contrast to the 10.5 per cent of central government spend in '12/13 (across all categories not just IT) going directly to SMEs when the playing field is not level."
The problem with Mr Allott's parallel is that he discounts the hundreds of millions of pounds of taxpayer cash being spent outside G-Cloud in the dozens of public sector frameworks up and running, and on specific projects. Four big integrators - Capita, Servo, Atos and G4S - accounted for £4bn of government biz in fiscal '12 alone.
Many of these frameworks and specific projects do include SMEs already, who have been subcontracted to provide specific skills, but the proportion they account for varies and is not transparent to government.
Three more mega frameworks are on the way estimated to be worth a couple of billion pounds - and it is entirely possible that SMEs will not make the cut on any of them such is the requisite man-hours to respond to sprawling tender documents and the financial clout government suppliers need to demonstrate.
Efforts to tackle the bloated outsourcing giants, integrators that have grown fat off the public sector purse in charge of projects with a questionable success rates, is to be applauded, but government may be over-playing the SME agenda.
Allott claimed in his blog that size matters and "when SMEs win IT business they win it because they offer much better value". This may be true, but why?
El Chan has often asked government to detail the ways in which it breaks down the savings from SMEs, but have never been given an answer.
Maybe because nobody really knows, or maybe because the quality of data collated from different departments is weak.
"I don't have the exact figures," said Allott, "but my impression is that savings of between 25 per cent to 75 per cent are not uncommon when using SMEs."
With more than £10m spent on G-Cloud in October, the current run rate annual spent for fiscal '14 is £80m, he asserted.
"If SME suppliers are half the price of traditional suppliers, the potent savings at the current run rate are £35m per year," he added.
Allot asked if G-Cloud could swell to ten times the current size, and pointed out that government spends billions on IT each year which could translate into savings of hundreds of millions.
It is not at all clear how Allott calculated his figures - presumably trading via the cloud is simpler and cheaper, but why so for SMEs more than their large counterparts?
The problem he and the rest of the G-Cloud team face is finding the way to generate more business on CloudStore.
He suggested some inspirational methods: grow the customer base; grow services on the catalogue; build the supplier base; debug the process (outages Stephen, outages) and refine the web experience (outages Stephen, outages).
Up to 25 per cent of the tech budgets must be spent with SMEs by 2015, so expect more spin before the government finds a way to pull a rabbit out of the hat to meet its objective. ®
Sponsored: Minds Mastering Machines - Call for papers now open