US Supreme Court to preside over software patents case
Decision could help shift legal handling in code disputes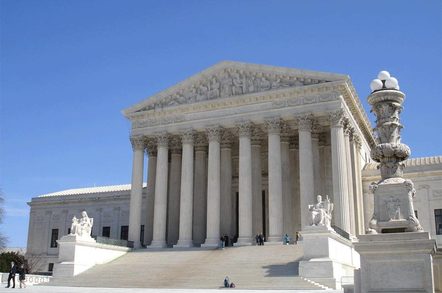 The US Supreme Court has agreed to hear a patent case which some hope will have a profound effect on the software industry.
The top US court on Friday said that it would review a lower court ruling in the case of Alice vs CLS Bank. The decision, say advocates, could have implications throughout the software industry.
At issue in the case is the ability and extent to which software can be patented under US law. Software developer Alice Corporation claims to have patents regarding financial transaction tools which were challenged by CLS as not being eligible for protections under US patent regulations.
After a US District court issued a mixed verdict, the Supreme Court has agreed to hear the matter in an upcoming session.
According to patent reform advocates, the case represents a hope that the Supreme Court will help to crack down on what have been called "abstract" software patents which cover vague areas and wide swaths of operations.
"We're glad that patent reform has momentum and that policymakers are targeting patent trolls," said Julie Samuels, EFF staff attorney and holder of The Mark Cuban Chair to Eliminate Stupid Patents (seriously). "But the root of that problem, which has largely been missing from the public debate, is patent quality, specifically of software-related inventions
"There can be no doubt: we have a problem with low-quality, abstract software patents in this country," Samuels said.
Fueled by pressure from online rights groups and technology industry lobbyist organizations, the US government has in recent months turned much of its attention to the issue of examining and reshaping intellectual property laws and patent regulations in order to cut down on frivolous and vague infringement claims by patent troll organizations.
Earlier this week, the US House passed a landmark bill which seeks to place new, stricter controls on companies looking to file patent infringement claims. Dubbed the Innovation Act, the bill is a rare legal effort that is being hailed by both industry and user advocacy groups alike. ®
Sponsored: Minds Mastering Machines - Call for papers now open