Inside Steve Ballmer's fondleslab rear-guard action
Or, how I learned to stop worrying and love to touch
They're intimated by a WIMP
They're not just cheaper, they're also easier and less intimidating. The WIMP (windows, icons, menus and pointers) desktop is a product of the 1970s. It's stuffed full of abstractions and indirection, which simpler touch interfaces banish or hide. There are no windows, no drives, no folders, no right-clicking or double-clicking, no menu bars or tooltips - not even a virtual pointer you steer around my fiddling with a plastic box on the desk.
The word "intuitive" gets egregiously overused in computing, but touch interfaces are a step forwards. Don't believe me? Just watch a video of an infant playing with an iPad and their bafflement when tapping and swiping doesn't work on dead-tree media.
The apps are smaller, simpler and cheaper, too – the heavy lifting's done "in the cloud". Which is fine, because twenty-first century "computers" are just the tools you use to access the Web. Not the Internet: email, chat, file-sharing, all over HTTP. Nobody remembers the difference. And that's a good thing: less to learn, less to support.
And support is expensive, even by remote control over the internet. Thick clients are on the way out - too expensive and too fragile. Thin clients are cheaper, and tablets make good ones.
Even the digerati don't know how to use computers. And remember, five billion people have never owned one yet. They will never see a "desktop", any more than those who started using computers in the '90s have seen a dumb text terminal. Any computer company that wants to survive must aim for this market.
Sure, future computers will understand speech and so on, but current implementations are server-based - they need fast, cheap, always-on data connections, plus big, under-used data-centres at the other end. Touch is cheap, easy and happens on the device, so it will dominate at first.
This isn't vague hand-waving prognostication; it's right round the corner. This is why Apple's adding touch control to OS X faster rather than OS X features to iOS. It's why Ubuntu foisted Unity on its users.
A Zune by any other name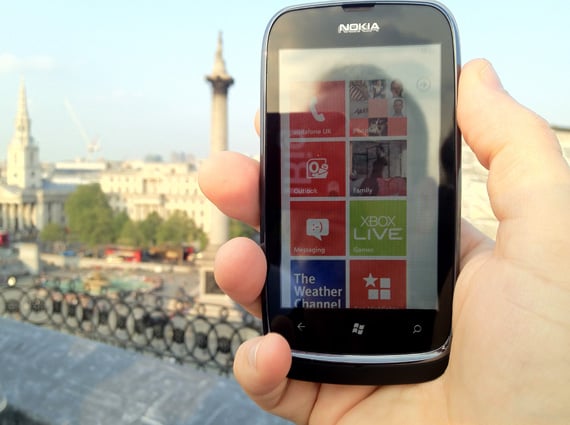 Windows Phone and Windows 8 ... all part of the same family
And it's why Windows 8 looks like it does, with a (slightly clunky) version of the touch interface pioneered on the Zune media players and refined on Windows Phone. Microsoft aims for the future. Windows 8 is version 1.0 of its OS for the late twenty-teens. Microsoft's management knows that it must get a stake in the new territory of touch interfaces, fondleslabs and app stores, or it will be left behind, a fading technological irrelevance. The future is small, battery-powered and keyboardless.
Yes, it's less powerful, more imprecise, slower and all the rest, but that's exactly what the text-mode fans complained 25 years ago as GUIs came in. Even in their prime and selling millions, the Mac, Amiga and ST were derided as toys by the professional, business market – until it caved in to the inevitable in the early 1990s. Only serious weirdos eschew GUIs today. The same is happening all over again, right now, but memories are short in this business.
It won't be mandatory - command lines are still around today, but most people never use them. If you're a touch-hater, there will still be keyboards and pointing devices. WIMP desktops will stick around - but mainly on FOSS systems; the mainstream will leave them behind.
In a decade, computer users won't be adjusting windows with a mouse while a box on the floor hums at them. Steve Ballmer knew this. He successfully defended his market, while also looking to the future and copying his rivals' best moves. It was a bravura performance, but it wasn't good enough and it cost him his job.
As the next five billion come online, they'll be stroking glass - and so will you. ®
Bootnote
The difficulty of writing parallel code is rarely understood - but there's a great metaphor. If you had to read a book as quickly as possible, would it help you if I gave you eight copies of it? No? Four copies? Two? That's why your PC's a quad-core -- and two of its cores seldom wake up. One runs your app, one runs your antivirus or some OS stuff in the background, and the others do sod-all most of the time.
Sponsored: Minds Mastering Machines - Call for papers now open