Bigger on the inside: WD's Tardis-like Black² Dual Drive laptop disk
The world's first SSD-HDD combo... and possibly the last?
When two drives go to whirr
The Acronis True Image WD Edition software (version 16 from 2013) insisted that I connect a WD drive first, even though the Dual Drive was connected using the adaptor cable. After a little trial and error, I found that Acronis would only play ball once I used Windows Disk Management to create a partition on the new drive. That done, I had the option to clone the original drive, clean up the disk, destroy data and so on.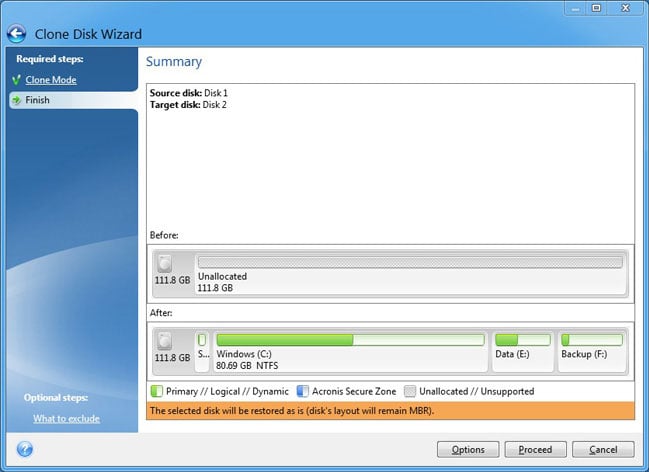 Acronis duplicates your existing drive
The laptop drive that I cloned had three partitions for Windows, data and backup, and the Acronis software cloned all three without trouble. Once the cloning was complete, I removed the original hard drive and plugged the WD Dual Drive in its place. Now it was time to run the WD software to unlock the 1TB hard drive.
At this stage you need to know that the Dual Drive works with Windows XP, Vista, 7 and 8 but not with Mac OS X, at least not until next year. Linux support... well, who can say?
The partition can't span the SSD and HDD, and WD doesn't support Nvidia and ASMedia SSD controllers, although that is more likely to bother desktop PC users than owners of laptops.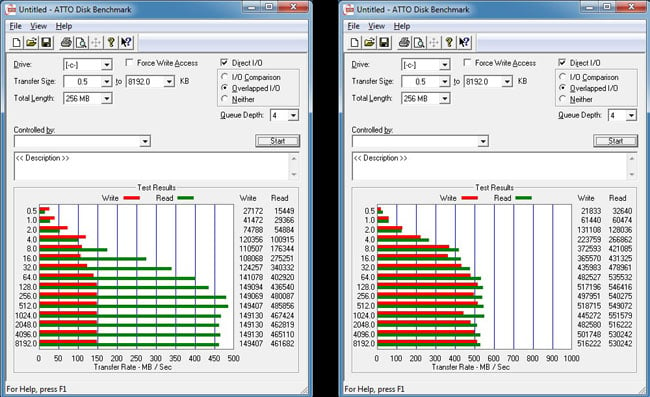 ATTO SSD benchmark results: SanDisk's Extreme II SSD (left) vs WD's Dual Drive SSD (right)
Click for larger image
Once the Dual Drive installation software had loaded the bridge chip drivers, the system restarted and the 1TB partition was created before the system booted into Windows. I now had two visible drives in Windows Explorer with a combined formatted capacity of just over 1TB.
The HDD compares favourably with a 1TB Seagate SSHD hybrid drive, although it is a few percentage points slower at every step and is noticeably slower than the new 7mm 500GB Toshiba MQ01ACF hard drive.
When I duplicated 2GB of music files on each drive there was a noticeable gulf, with the Seagate doing the job in 16.7 seconds and the Toshiba in 21.8 seconds while the Dual Drive HDD took 32.3 seconds.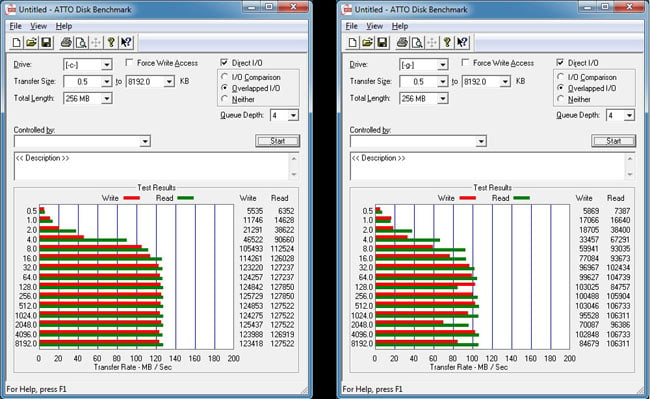 ATTO SSD benchmark results: Toshiba's MQ01ACF HDD (left) vs WD's Dual Drive HDD (right)
Click for larger image
Interestingly, the Dual Drive SSD took 28.6 seconds; much slower than a SanDisk Extreme II SSD, which copied the files in 5.1 seconds. In other respects, the WD SSD flew through the benchmarks and trounced the hard drives but was unable to keep up with the SanDisk SSD.
The Dual Drive feels like a decent HDD and a slowish SSD that have something holding them back - probably the Marvell bridge chip which is managing the Sata interface.
I can show you a convincing reason why you should consider the Dual Drive: starting 64-bit Windows 7 on my Core i7 took 42.7 seconds using the Toshiba HDD whereas the SanDisk Extreme II took 22.3 seconds. The WD Dual Drive won the race: it took 19.5 seconds.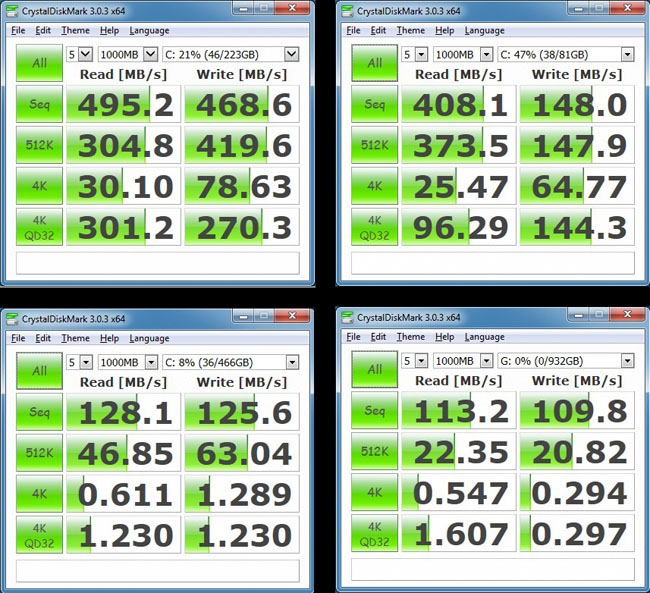 CrystalDiskMark Results - clockwise from top left: SanDisk Extreme II SSD, WD Dual Drive SSD, WD Dual Drive HDD, Toshiba MQ01ACF HDD
Click for a larger image
And so we come to the big question: should you spend £249 on a 1TB WD Dual Drive? Clearly not if you have a Mac – or at least, not until the Mac software is released in 2014.
If you can afford £480 for a 1TB Samsung 840 Evo SSD then I suggest you avail yourself of one, as it is an act of charity to remove spinning magnetic media from your laptop.
If you like the idea of a WD Dual Drive but hate the thought of spending £249 on a 1TB HDD, I sympathise and point you towards the 1TB Seagate SSHD, which will set you back just £85. Or you can buy a 1TB WD Scorpio Blue HDD for 60 quid.
If you don't need 1TB or 750GB then the smart thing to do is to buy the most affordable SSD that you can stomach. My suggestions include the £150 240GB SanDisk Extreme II, the 480GB Crucial M500 and the 500GB Samsung 840 Evo. The last two are both priced at £290, a whisper more than the Dual Drive.
The Reg Verdict
If you have a Windows laptop with a single drive bay AND you need more than 500GB of storage AND you don't want to spend more than £250 AND you're not too concerned about performance THEN I strongly recommend the WD Black² Dual Drive. But that's a LOT of 'ands'. ®
Sponsored: Cluster speeds molecular dynamics research with NVIDIA GPUs

Bigger on the inside: WD's Tardis-like Black² Dual Drive laptop disk
Clever two-drives-in-one laptop storage designed to merge the speed of SSD with the capacity of HDD.