Our Vulture strokes Dell's ROBUST 15 INCHER: Inspiron 15 Core i7
Middle of the road desktop replacement - but beware looking for help
Support issues
My attempts to get Linux Mint 16 (Petra – Cinnamon) up and running using Pen Drive Linux USB drive installer didn't get past the installation boot options. So I went back to Ubuntu 13.10 and this did run, recognising the Wi-Fi card and the touchscreen functions. Incidentally, Linux Mint 16 is based on Ubuntu 13.10, so I'm not sure what the issue is there.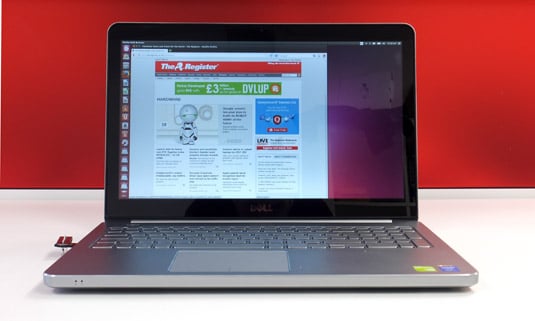 Ubuntu Linux up and running from a Pen Drive Linux USB stick
Testing out full HD movies played well enough on the visual side of things but the audio wasn't especially loud. The Dell Audio utility features noise cancelling options for its two mics either side of the web cam and the latter is better than most I've seen on laptops – sharp but the high contrast does darken mid-tones so it's not exactly subtle.
The audio tweaks for playback are delivered by Waves MaxxAudio Pro which features presets for movies, music, gaming to name a few and you can save your own custom settings for the user configurable tone controls and dialogue enhancement. There's an equaliser too, but with the exception of action movies, the output just isn't powerful enough on the Inspiron 15. Unsurprisingly, there's no bass to the speakers either, but the stereo separation was good on both music and movies.
Still, many with the desktop replacement in mind will have external speakers to hook it up to and there's always the HDMI telly option too. I tried this out and all was well for both mirroring and smooth playback of a 1080p movie using a TV screen as an extended desktop.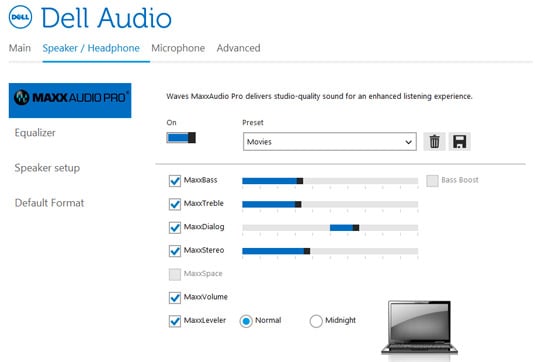 Waves MaxxAudioPro takes care of the sonic boosting
I had a good hunt around the Dell apps for some kind of freebie cloud service, but the company seems to have sensibly sidestepped this for its consumer base. After all, it's not like folk are short of options these days now is it? DropBox, SugarSync, SkyDrive and Google Drive, to name a few. Even iCloud can be accessed from PCs.
What is on offer are various utilities for updates, back-up and support – the latter turning into a bit of a joke. Every click on the support page for items such as the user manual, Tools & Info and even Contact Technical Support popped up with "There was a problem accessing the requested information. Please try again later or visit…"
At least the link to the support website itself worked but then you have to hunt around to find the relevant parts. And yes, I did try again later, with the same result.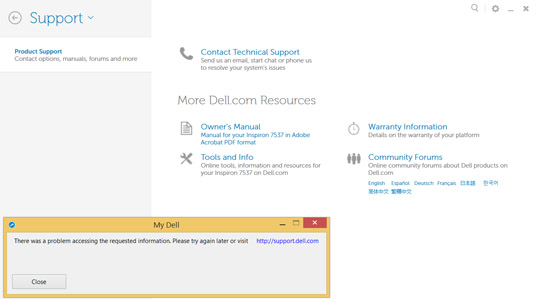 Dell Support interface: all the links here are dead. Maybe someone on the Inspiron team needs support?
Click for a larger image
Time was, when you'd think you were being short-changed because the manufacturer would only bundle a PDF manual on CD. Later, the PDF was tucked away on the device itself and now the lazy bastards can't be bothered to do even that – the information is on-line accessible from an app with broken links. Apparently this is progress and no, Dell isn't unique here, I had a similar issue with an Android eBook reader recently.
The Reg Verdict
So it seems that corners are obviously being cut in some of the most surprising places, but Dell does have the good grace to provide a year's subscription to MacAfee LiveSafe, probably to make savings on virus-related tech support calls. However, the version of Microsoft Office shipped with the Inspiron 15 is a mere trial. Not only that, you'll have to rely on Windows Essentials for any multimedia creation exploits. Even that forged metal casing isn't all encompassing as the underside is plastic.
Yet the Inspiron 15 rather gets away with it, being robust in all the right places. Dell tops it off with a touchscreen made with Corning Gorilla glass. It's not without a few quirks, but it should last and there will be the SSD speed bump to look forward to when the time comes to give it a makeover.
The key issue, though, is do you really want to buy a desktop replacement that merely matches an Ultrabook on performance? Or do you spend a fair bit extra for something faster, with a quad-core processor and worry less about the battery life? No doubt Dell has something sportier tucked away for you to spend your money on, but it's probably not as slim – nor as stylish – as the Inspiron 15. ®
Sponsored: Minds Mastering Machines - Call for papers now open

Our Vulture strokes Dell's ROBUST 15 INCHER: Inspiron 15 Core i7
Sizeable but slim 15.6in full HD touchsceen laptop kitted out with a dual-core 4th Gen Intel Core i7-4500U CPU, Nvidia GeForce GT750M GPU, 8GB of RAM and a 1TB HDD. Bluetooth 4, dual-band, 2x2 WiFi and Gigabit Ethernet.