United Nations launches fleet of surveillance drone patrols
Africa as test bed for new technology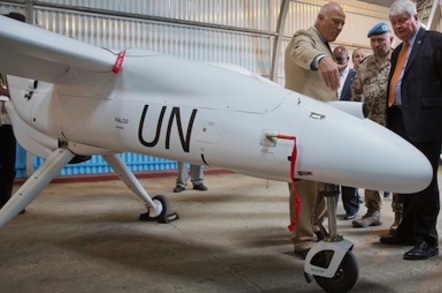 The United Nations has for the first time launched drone aircraft as part of its peacekeeping activities.
The UN said that its fleet of UAVs would be unarmed and would be tasked with performing reconnaissance and surveillance activities in parts of the country where armed rebel groups continue to pose a threat to peacekeeping operations.
According to UN officials, the drone aircraft will be deployed to provide additional support for ground operations, allowing forces to observe activities in remote parts of Congo's eastern territories and direct movements of ground troops in the region.
The territory covered by the drones will include parts of the country which had been contested by former military units and still contain a number of armed movements which the UN believes pose a threat to the peacekeeping efforts.
"With this kind of equipment, we should be able to combine information gathered in flight with information gathered on the ground by people," said General Santos Cruz, commander of the UN's MONUSCO peacekeeping effort. "One can observe the movements of the armed groups, movements of populations and can even see the arms carried by people on the ground, and it is also possible to see people in forested areas."
While the UN said that the deployed units will only operate with Congolese territories, reports have suggested that if successful, UAVs could be deployed in other peacekeeping efforts such as those in South Sudan.
The use of drone aircraft in conflicts has become a hot topic as many western military and intelligence groups have adopted unmanned vehicles to perform tasks ranging from surveillance and reconnaissance to armed attacks on human targets. ®