NSA sez NO to prez: Spooks ban Obama from using iPhones
Leader of the free world now chained to 'super-secure' BlackBerry One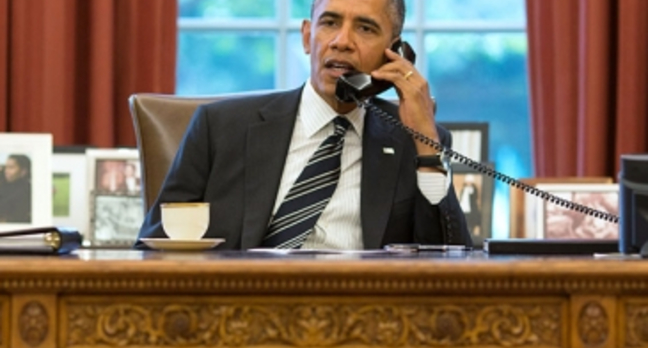 US President Barack Obama, a well-known BlackBerry fan, has said that he's not allowed to have an iPhone for "security reasons".
In a speech at the White House promoting his healthcare changes to a youth audience, Obama said that he couldn't use an iPhone, though he joked that his daughters seemed to spend a lot of time on theirs.
The President had to fight to hang onto his BlackBerry when he took office in 2009, since the NSA, which as everyone now knows, knew everything about slurping private information from personal devices, wanted him to stop using it.
He said that the government would have to "pry it out of my hands", leading to the National Security Agency working with the manufacturer formerly known as Research in Motion to develop the BlackBerry One, a special one-off super-secure model for the president and his family to use.
Since then, BlackBerry's fortunes have dwindled considerably and the company recently considered, but then discarded, plans to sell itself off. It's now trying to stay viable by concentrating on large business and government clients, so it's probably pretty happy to have such a high-profile fan.
Obama's comments weren't intended as a slight against Apple's iDevices as such, but more as a way to signal that he was down with the kids – while also admitting he wasn't all that familiar with how much they paid for their mobile phone bills.
"I don't know what your bills are. I have noticed that Sasha and Malia seem to spend a lot of time on [the iPhone]," he said to laughter from his audience.
"My suspicion is that for a lot of you, between your cable bill, your phone bill, you're spending more than 100 bucks a month. The idea that you wouldn't want to make sure that you've got the health security and financial security that comes with health insurance for less than that price, you guys are smarter than that. And most young people are, as well," he said, touting the benefits of his revamped healthcare system, known as Obamacare. ®
Sponsored: Fast data protection ROI?