We're not destroying the music biz: Spotify
But we will take commission on tix and sell branded tat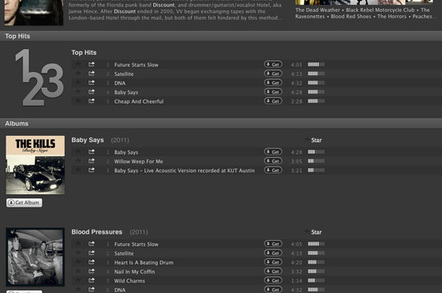 Streaming music service Spotify has established a new web site - spotifyartists.com that explains it is not destroying the music business, but is instead showering riches on artists.
The new site claims Spotify has handed over $US500m in royalties this year alone and has cracked the $1bn payments mark over its lifetime. It also says it hands over "nearly 70% of all the money we earn in royalties." So now we know it's revenue this year is about $700m, a more-than-decent decent take that goes a fair way towards explaining its eyebrow-raising $4bn valuation.
On the off-chance artists think that's a raw deal the service has also erected an analytics portal so artists can gather data on listener numbers.
Nicely mollifying stuff, eh? Mostly: the new site also outlines plans to offer "ticketing and merchandise listings right inside of Spotify, for free!"
Free to users, from the sound of things. And almost certainly costly to other industry participants who rely on commission from ticket sales or make a living selling merch.
There's almost certainly a defensive PR aspect to Spotify's analytics offering: the site has earned plenty of criticism for making it harder for artists to make a living. It's not hard to imagine another such explanation will one day be forthcoming about these new services. ®
Sponsored: Minds Mastering Machines - Call for papers now open