Gadget world's metals irreplaceable, say boffins
We have an elementary problem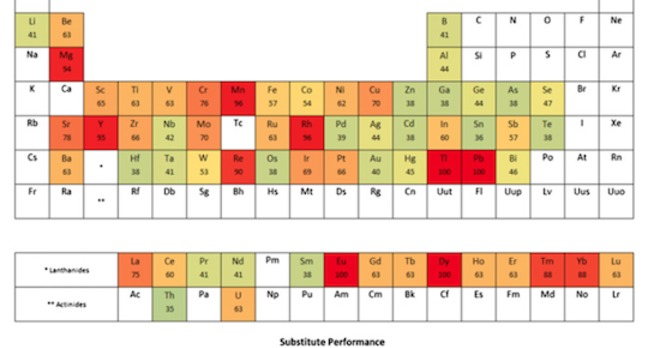 Nearly one-fifth of the metal elements present in modern tech products have no replacement candidates if supplies are exhausted, according to a study by Yale University.
In fact, the survey of 62 metals important to modern technology finds that not one of those metals has an "exemplary" alternative to take its place if reserves were to run low.
The study, published in PNAS (abstract here, full version here), is an attempt to assess the "criticality" of various metals used in gadgets – whether as the basis of micro-electronics, batteries, or merely as a circuit trace like copper.
Some of the hardest-to-replace metals include magnesium, manganese, yttrium, rhodium, rhenium, thallium, lead, europium and dysprosium. Without them, we might have trouble producing phosphors for flat panel displays (yttrium and europium), jet engines and electrical contacts (rhenium), optical devices (thallium), permanent magnets (dysprosium) and other high-tech components.
"For some widely used metals — including copper, chromium, manganese, and lead — no good substitutes exist for their major uses," Yale University says in a statement. Thankfully, at least some of these are highly abundant.
The university says the research "aims to produce a quantitative assessment of how metals are used on a global scale, the extent to which they are recycled, and, ultimately, how future demand will affect material resources."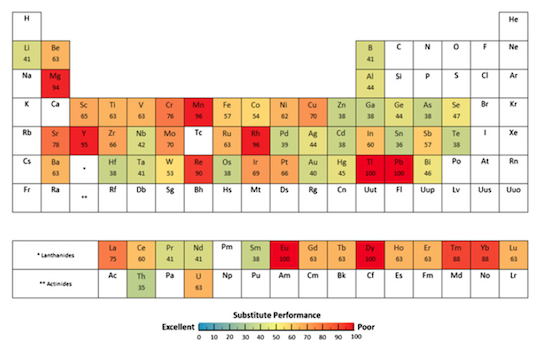 Some metals key to technology production have no good substitutes. Source: Yale University
Unsurprisingly, the study's authors say the tech sector needs to get much, much better at recycling the metals it uses, including designing products to encourage and enable recycling. ®
Sponsored: Are DLP and DTP still an issue?