Bold Bezos aims skywards with liquid hydrogen and SPACE ROCKET engine
Blue Origin fires up its BE-3 machine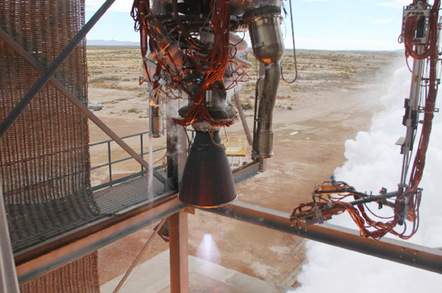 Amazon supremo Jeff Bezos' private space outfit Blue Origin has announced it has successfully tested its BE-3 space rocket engine "in a pattern that simulated a suborbital mission".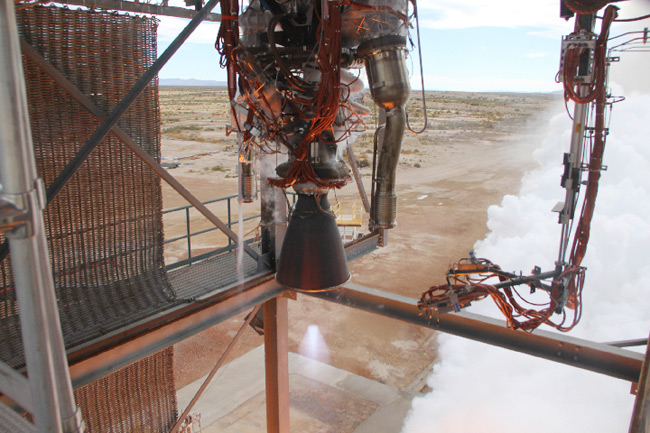 The BE-3 roared to life at the company's test facility near Van Horn, Texas, on 20 November. Burning liquid hydrogen, it "produced 110,000 pounds (49,900kg) in a 145-second boost phase, shutting down for approximately four-and-a-half minutes to simulate coast through apogee, then restarting and throttling down to 25,000 pounds (11,340kg) thrust to simulate controlled vertical landing".
The motor is designed to lift Blue Origin's New Shepard suborbital system, and ultimately carry humans to low Earth orbit as part of NASA's Commercial Crew Program.
Rob Meyerson, Blue Origin's prez and and program manager, said: "The BE-3 will gain extensive flight heritage on our New Shepard suborbital system prior to entering service on vehicles carrying humans to low-Earth orbit. Given its high-performance, low cost, and reusability, the BE-3 is well suited for boost, upper-stage and in-space applications on both government and commercial launch systems."
The "reusability" factor is a novel feature of the New Shepard concept, representing a boost stage which returns to terra firma, hence the test's simulated controlled vertical landing phase.
According to NASA, the BE-3 is "the first new liquid-hydrogen rocket engine built for production since the RS-68, which was developed more than a decade ago for the Delta IV rocket family".
It's a bold choice of fuel for Blue Origin, at a time when many rocket scientists - including those working for rival space-chaser SpaceX - favour easy-to-handle RP-1 (kerosene).
While a SpaceX Falcon 9 successfully deployed a communications satellite into geostationary orbit on Tuesday, there's no indication of just when Blue Origin's New Shepard will get off the ground. ®
Sponsored: Minds Mastering Machines - Call for papers now open